All hail the mighty creatures...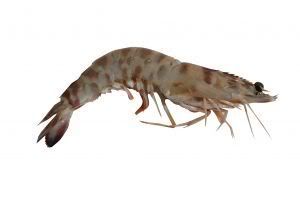 I was munching on a prawn sandwich from Sainsbury's this weekend, and as we are expected to do these days I started to wonder where my food had come from. The higher-end supermarkets have fairtrade this and ethically sourced that, but the inch long pink curly things in my lunch could really have come from anywhere. In turn, this got me to thinking about prawns and shrimps in general (it was a slow afternoon), and the fact that we really don't give them a great deal of credit.
"But what do I have to thank a prawn for?"
you might ask. More than you would think - just a ten minute Google later, we find the plucky crustaceans helping spread peace through the EU, creating Supernovas, knocking in goals, tricking scientists, and even saving lives. Read on friend, and never doubt our seaside-dwelling chums again...
Prawns to Germany?
UK fishing boats poised to go bankrupt were saved earlier this year when the government struck a deal with Germany to exchange 1.5% of the UK's North Sea prawn quota for lucrative sole. 150 tonnes of the pricey flatfish were passed over to struggling smallholders along the Suffolk and Kent coasts, in exchange for the bountiful decapods. The 1.5% quota figure was believed to yield 375 tonnes of prawns for the German fishermen. Almost 200 boats were on the verge of going out of business after the flatfish they normally rely on had their allowances cut.
Link
The Shrimps at Wembley?
The Lancastrian seaside town of Morecambe is famous for a few things, and shrimps are one of them. Served in small pots of butter, the tiny brown things are a northwestern delicacy. So much so, that the town's football team is nicknamed the Shrimps (surely beaten only by Preston Grasshoppers in the lists of invertebrate mascots). Formed in 1920, Morecambe FC have dwelled in the lower leagues for their entire history - playing in footballing rockpools, if you will. That is, until last year when they overcame all the odds and gained promotion to the football league for the first time in their history. Even more remarkably, they knocked out local rivals Preston North End in the league cup (two divisions above them), and then went to play ex-Premier leaguers Wolves in the next round - promptly dumping them out 3-1. The greatest result in their history put them in the last 32. Sadly, they then got potted 5-0 by Sheffield United, but every Shrimp has it's day.
Morecambe FC
The Supernova Shrimp?
The Alpheid Snapping Shimp that inhabit tropical coral reefs are more commonly known as 'Pistol Shrimps'. These amazing little nippers live in burrows and feed on fish - not by foraging for dead ones as other prawns do - but by nuking unsuspecting passers-by with a shockwave blast that pound-for-pound is the loudest noise in the animal kingdom. A special claw snaps closed in less than a millisecond, generating an acoustic cavitation wave of 80kPa. I have no idea what that means, but they can stun any fish within 4cm. As a by-product, this act also releases a flash of light, which reaches a temperature hotter than the surface of the sun as the pressure bubble collapses. If they ever decide to use this against us, watch out. Happily they mostly live symbiotically with gobies - the shrimp digs a burrow they share and the fish uses it's better eyesight to watch out for danger. They keep in constant contact so they are both safe (presumably apart from when the shrimp is atomising it's dinner).
video of Pistol Shrimp in action
Shrimps to the rescue of diabetics?
Scientists in Taiwan are close to finalising trials of an insulin pill for diabetics, which is enclosed within a specially made shell. Insulin is destroyed by stomach acid, meaning sufferers of the disease need to inject themselves directly to bypass the digestive system. But the scientists have found a textured carbohydrate called Chitosan, synthesised from shrimp cells, which is resistant to human stomach enzymes. Tiny spheres of insulin are encased in the prawn armour, and swallowed. They travel through the stomach unmolested, and attach to the walls of the small intestine, where they are absorbed into the bloodstream and their vital contents can get to work. The trials have only been successful for rats so far, and there is a long way to go - but the Taiwanese team are hopeful they can repeat their results elsewhere and use their prawn pill to help diabetics give up the needle.
Link
What's that clicking noise?
Scientists are always coming up with brilliant schemes to find things out - and the topic of interstellar space particles is no exception. Neutrinos are launched from collisions between cosmic rays and energy from the Big Bang, and rocket through the universe for billions of years. They have never been detected before, but scientists at University College London came up with the idea of using sensitive microphones to listen to the particles as they plop into the ocean. Apparently even though these minute grains whizz through space as if they were fired from the claws of a hungry pistol shrimp, when they hit the Earth they weigh so little you can hardly sense them. If one of them hit you, you'd never feel it (thankfully). So the boffins gathered a set of high-tech gadgetry off the Scottish island of Rona, to attempt to unlock the secrets of the universe. They were therefore amazed when their hydrophones picked up a multitude of snaps and bangs going off all the time. Were these Neutrinos bombarding us like we never thought? Well, no, as they later found a species of - you guessed it - clicking prawn, innocently firing off their claws at exactly the same frequency.
"They are pretty annoying, but fortunately they click all the time, so we can filter them out"
said one of the UCL scientists.
Link