Your author relaxing at the weekend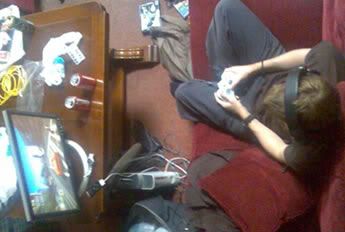 I've always been interested in hobbies, and why people enjoy doing things that others find incomprehensible. When I was living in Sydney I attended the 2005 World Stamp Expo (
and here's how I got on
) - not because I'm fascinated by philately, but because I fail to see the interest in collecting small sticky pieces of paper. But a lot of people do, and very happy it makes them (until Roger from down the road flaunts his rare Armenian 50 Spongle first edition with the King's head back to front). Others find it thrilling to write down train numbers in a book, collect jaunty teapots, or run along canal towpaths until they vomit (you know who you are). Me, well, I like playing computer games (amongst other things).
After typing that I somehow feel a need to counter it by saying that although I admit to it, I'm not a wild-haired recluse with questionable hygiene and social skills (well, not after I've had a cup of tea in the morning). I'm not sure what it is about these kind of hobbies that lead people to offer some kind of qualifier when they reveal them, but being a 'gamer' is something I tend to feel slightly embarrassed about. I would certainly never put it on my CV, for example. In any case, my tireless work at the orphanage tends to take up too much room. Computer gaming is seen as an anti-social thing to do, and the standard image of the bespectacled nerd is often used with regard to people who claim to know anything about them. As my friends will attest, I know absolutely nothing about computers - but I do know how to plug in a joypad.
Over the last weekend I spent four days in a converted Chapel in the South Derbyshire countryside with a large group of friends. We weren't there to go hillwalking, fishing, or any other pastime which can be equally sniffed at by others - no, we were there to play computer games. A LAN (local area network) event is where a group of people bring their PC's, or in our case Xbox 360's (or in my case, nothing but a hopeful smile), connect them up with various multicoloured cables and a bit of swearing, play games against eachother, and eat a lot of
Jaffa Cakes
. I'd been to a few before, and yes, I do enjoy them. I grew up in the 1980's when computers were just coming into the public eye, and I challenge any lad born from 1975 onwards to admit to not having an interest in computer games at some point.
Of course, very few of them travel hundreds of miles to meet up and play them all weekend with people they see once a year at most - but then I'm sure some people travel hundreds of miles to attend classic car conventions, or spend hundreds of pounds importing guitars to add to their collection. Horses for courses and all that ;) I'm not afraid to admit I had a great time, catching up with the guys (as they almost always are). Playing a game in your flat is all well and good, but when you can play the same game in a large room against several friends who are there to shout abuse at you is far far better. It's like going to a book recital instead of reading in your house, or a concert instead of listening to a CD. Only with Jaffa Cakes, as I said.
So we swapped tales about what we'd been up to since the last meet - I had a fair few, of course - had a barbecue, drank a fair amount of cheap lager, and watched car after car after car drive past with England flags flapping from the windows. Oh, and played games, of course. From the sublime
Project Gotham 3
on the 360 (which I am playing in the photo above), to the ridiculously brilliant
Sunset Riders
. I managed to play all kinds of different games, some of which I will certainly buy - like the awesome We Love Katamari - just check out the
website
(it's Japanese), some of which I won't, because I got a chance to try them out. We managed to squeeze in the England game - unfortunately - and also some award-winning fish and chips, which apparently in Belper they have with Mint Sauce. Wierd, no? It works, though. All in all it was a great weekend, and I'll be looking forward to the next time we meet up in 2007. If liking computer games enough to travel that far to play them makes me a geek, then hey, I'm a geek. What's your poison?