A fish inside a fish, inside a museum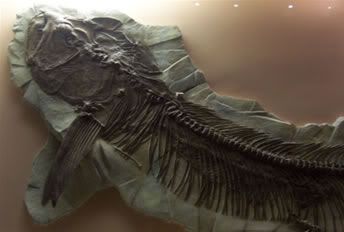 Thanks to an old act of Congress, no skyscrapers are to be found in Washington DC. Keeping the buildings under a certain height (I don't know the exact stipulations, but from what I could see it seemed to be about six storeys) means that the typical North American block layout gives DC an even more regimented feel to it. Around 'The Mall' - the central rectangular area containing most of the tourist sites - all the structures look very similar. That's not to say they aren't impressive - large pillared sandstone buildings squat quietly next to each other as far as you can see. Every so often a newer one breaks the pattern - like the Museum of Native American History (more of which on a later post), or the quite dreadful
Canadian Embassy
. The older museums do look like those in Europe, which I suppose was what the architects were after - the National Museum of Natural History bears more than a passing resemblance to it's counterpart in South Kensington.
I started there, as I've been to more Natural History Museums than I can remember - and wanted to see if DC's would supplant any in my unofficial top three; London, Vienna and Wellington (unofficial because Wellington's
Te Papa
isn't strictly a pure Natural History Museum). The NMNH was free, as all the best ones are, and immediately through the doors is a staggering African bull elephant in mid-charge. Stuffed animals are one of the pre-requisites for greatness when it comes to Natural History Museums, and dinosaurs are of course another. After walking past the large taxidermied pachyderm, which at 13ft high takes some doing, the prehistoric section was full of large blackened recreated skeletons in various lizardy poses. Although it was pretty busy, there was a lot to see and read about - the highlight being the photograph above.
Sadly I forgot to write down what it was called, but it's a fossil fish that took up an entire wall of the top level of the dinosaur section. I reckon it was probably 20ft long, possibly more - easily the biggest fossil fish I'd ever seen. Of course, even more amazingly was the second smaller fish inside it - this was was about the size of me, so 6ft or so (ahem). Both were incredibly detailed - just look at the mouth on the larger fish, it looks like a modern day fish, not a skull from a long-extinct monster. There's a larger version of my picture
here
. The hunter certainly had an exciting (last) day, gobbling up a fairly impressive meal and then almost immediately becoming involved in some kind of horrible catastrophe that froze it forever with indigestion. It was an incredible think to look at.
Elswhere there was a nifty insectarium - the
O. Orkin Insectarium
, to give it it's full title. Everything in DC is named after someone, and in this case not without a certain irony as the generous donor Mr Orkin made his fortune in the pest control business. It was also predicatably busy, but thankfully American kids have low attention spans, and soon flitted from case to case as I stood there peeking at spiders and scorpions and the like. Hitting another of my pre-requisites, NMNH has a rather large and rather dull section on minerals - the
Janet Annenberg Hooker Hall of Geology, Gems and Minerals
, and a brand new gallery of stuffed mammals - called simply, Mammals. I immediately re-christened it the
Richard Taylor Cloistered Mammalarium brought to you in association with Down Under and Beyond Spectaculo-Galleria
. My favourite was the Cheetah. Elsewhere (amongst other things) was a very interesting exhbition about the journey of Lewis and Clark, complete with items they used, journals they wrote, and artefacts from the Native Americans they encountered.
So feeling suitably impressed - I have to say it displaced Vienna's NHM from my top three - I left and waded through the sticky air to the nearby National American Museum of History. This one dates from the 1960's, and is another of the Smithsonian's many museums. Unfortunately, it's currently in the process of moving to a sparkling new building, so many of the larger exhibits (and even entire wings) were closed off and packed up. But there was still plenty to see, not least an exhibition of the history of the Muppets. The NAMH is famed for it's eclectic collections, and it was interesting to wander along from the Vietnam War to Julie Garland's red shoes to Baltimore area trams. Despite being less than 2/3 full I was there for hours learning about the lives of early Jewish immigrants in Cincinnati, Mohammed Ali's career, and what kind of animal Gonzo is supposed to be.