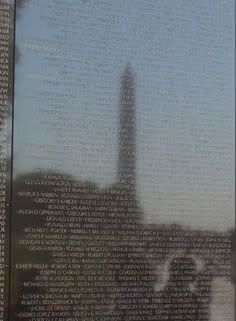 Washington is a city of monuments. As a planned city, it gave the authorities the freedom to build roads and buildings around memorials, not just squeeze them in wherever they could find a spare patch of green. One of the most famous is the Vietnam Veterans Memorial, here with the Washington Monument reflecting in the shiny black granite. Over 58,000 names are carved into the wall, which is sunk into the ground - it was called
'America's black gash of shame'
by some veterans when it opened in 1982. I went there first thing in the morning, and it was already busy. Vietnam is still very much in the minds of Americans it seems. I saw a long-haired man in a denim biker's jacket weeping as he looked at some of the names, and overheard someone else saying
"...and they had to drink water from the swamp"
. It's incredibly somber and sobering.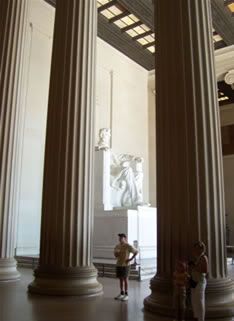 Just along a short path is the massive Lincoln Memorial, an enormous white marble Greek-style temple. You get great views down 'The Mall' from the top of the steps, and a small plaque set into the floor notes the spot Martin Luther King Jr stood on when he gave his 'I have a dream' speech in 1963 - arguably the most famous speech in history. These people are looking at another - the Gettysburg Address, which is carved into one of the side walls of the chamber. I'd seen the statue a few times on TV, but seeing it up close was stunning - it's 19ft high, and although my guidebook said it's made from 28 interlocking pieces of stone, it looks like one enormous statue. The only real shame are the constant aircraft flying overhead from nearby Ronald Reagan Airport.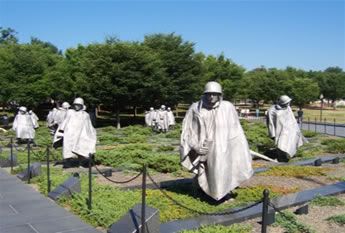 A recent (1995) addition, the Korean War Memorial is one of the most effective in the whole city. A squad of soldiers (all carefully multi-ethnic and multi-national) are depicted on patrol, walking towards an American flag, and a large comtemplative pool (behind where I was standing). There are 19 of them, and on the wall to the left are thousands of faces etched into another long piece of black granite - aside the phrase 'Freedom is not free'. Despite being covered in cobwebs, you can't help but admire the statues, and the overall impression they put on you. It's hard to miss, as each man is about 10ft tall.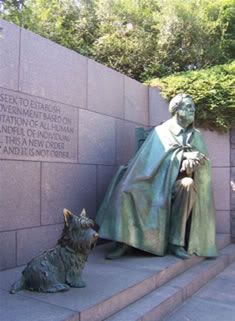 The largest memorial in terms of ground acreage is that of Franklin D Roosevelt, unveiled in 1997 (it's over 7 acres in size). It forms a history of the man's life, and you walk along through a series of scenes and bronzes about various things he got up to. There are lots of waterfalls and other water features (reflecting pools feature prominently in the Mall's monuments). Every so often one of his famous quotes is carved into a large block of concrete - which always makes me wonder if they wrote it themselves or it was thought up by a speech writer who never got any credit. FDR's memorial also features his wife and his dog (as you can see people obviously can't resist rubbing the dog's ears - but not the president's). No part of the memorial features his two ever-present items though - his wheelchair (he used one for 24yrs after contracting Polio), and his cigarette (apparently he was a chainsmoker).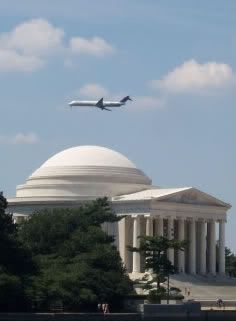 A plane zips low over the Jefferson Memorial into RR Airport. It was really low too, they come in over the Lincoln Memorial, then bank to the right over the tidal basin that all these sites encircle, before coming in for a final approach over the rotunda to the third president. He's inside in statue form, and there's a musuem underneath about his life, which was good for me as I knew almost nothing about him. Apparently he was something of the geek, creating endless societies and institutions to the sciences. He copied every letter he ever wrote for posterity, and wrote down everything he ever bought or sold in a series of notebooks - an Accounts Book, a Farm Book, and a Garden Book. When us evil Brits burned down the Library of Congress, he sold his entire collection of books to the colony to re-establish it. What a nice chap.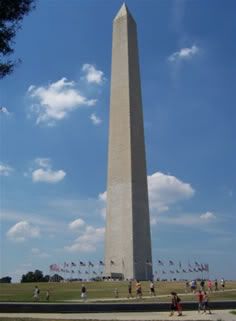 The Grandaddy of them all is the Washington Monument - like a veritable Blackpool Tower, it can be seen from all over the city. Also like Blackpool Tower, you can go up it in a lift, but the queues were so long I didn't fancy waiting in the 40C heat just to peek out of a small window at the top. 555ft and 5inches high, it was started before the Civil War, but construction had to be halted when the fighting started. This caused the rain to get in, and even today you can see the grubby tidemark about a third of the way up the column. After the War had ended, the project was completed and in 1884 it was topped with a large lump of Aluminium - which they probably pronounced Aloo-minum - then the world's most expensive metal (and also a tremendous conductor of electricity). Four years later, it was opened to the public, and men could ride up in a steam-powered elevator that took twenty minutes to get to the top. Women weren't allowed up as it was too dangerous, proving once again how smart they are.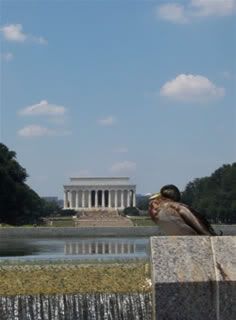 In 2004, the newest memorial was inaugurated on the Mall, that to the people who fought and died in WWII. It was immediately controversial because it was deemed to be blocking the view of the Lincoln Memorial (seen here in the background), and some in the corridors of power are asking if there are too many monuments cluttering the space by the Potomac. It features lots of bronze eagles and wreaths, and is divided into two equal semi-circles, representing the two American theatres of the war - Europe (or Atlantic as it's inscribed), and Pacific. Major battles are named, including a few my Grandfather fought in. There's a large plume of water in the centre, and of course more reflecting pools. These seem to be a haven for ducks, who were sitting in a row on the main concrete wall overlooking the memorial, oblivious to the masses of tourists taking their photo.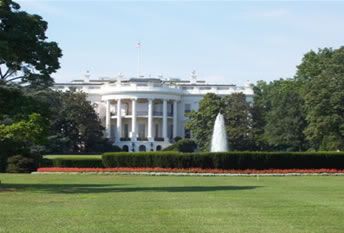 One of the most famous buildings in the world, the White House, which according to my guidebook has the most famous address in the United States - 1600 Pennsylvania Avenue (not that I knew that). This is the only view of it you can get, through a high fence at the back of the gardens. It looked totally deserted, about half a mile of lawn and neat flowerbeds (this is taken on my most maximum zoom), all innocent and unimportant. Of course, if you could leap over the fence I bet you'd only get about half a dozen steps before they caught you, there are probably pressure pads and laser tripwires and all sorts. Or maybe not, who knows. I'm not sure why there are what appear to be bedsheets hung outside the top windows. To combat the heat? To keep prying eyes away? Or maybe Dubya had a nocturnal 'accident' that required some immediate laundry. Anyway, it was built in 1800 and used to be called the Executive Mansion - it was renamed by Congress in 1902. You used to be able to go round on a tour, but not any more. I went to the nearby White House Visitor's Centre to find out more about the building, but it was closed. And George wonders why people hate him.