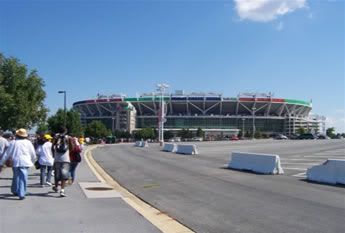 After a short flight from Boston on an airline I'd never heard of, I ended up at Baltimore Airport. A long wait outside the terminal in steaming heat later, I got to the DC Metro via a rickety bus, and then to my cheap (but surprisingly nice) hotel. The very next day, without having seen anything of the city, I scuttled out to FedEx Field to attend the Washington Redskins Family Fun Day. Not that I had any of my family with me, of course. FedEx Field seats almost 91,000 people, yet it looks like an old airship hanger adrift on a sea of concrete. The 'fun day' consisted of a practice match against their fierce local rivals the Baltimore Ravens, in preparation for the new season. Despite the stifling heat, and the brief (2hrs) practice, 48,000 people turned up.
Your author all greasy with sunblock, and not a little excitement, as he meets his first ever cheerleader. Some internet company was giving fans a free photo in exchange for their email address - so for a lifetime of spam (well, more spam than I get at the moment anyway), I got in line, and ended up talking to
Christine
. Our conversation went something like
"Hi, what's your name?" "Richard. What's yours?" "Christine." "I've never met a cheeleader before." "Oh, that's nice."
Then a forced grin apiece (at which she has obviously had more practice), and I was dispatched in favour of the next person in line. She was very friendly though. If you click the link, you can find out all about her - we have a fair bit in common. We've both been to Japan, are both (ahem) 30, and both have no beauty pageant experience. However I can't say my favourite book is 'Cheeky the Mouse'.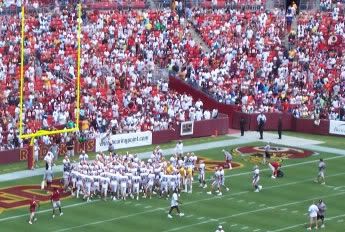 The home team meet for a team talk before the scrimmage begins. Essentially it's a practice where at the end they play a series of minigames with the other team, so they can get an idea of how their various units are progressing before the season begins. Even if you don't know anything about American Football, you probably know it happens in a series of short, scripted set-pieces called 'plays'. So that each man knows exactly where he's supposed to run and who he has to run into, they practice them over and over again, and players learn many hundreds of combinations that they are expected to instantly remember and act upon at a moments notice, in 100F heat, and with 25stone men trying to knock them out. Even if most of these guys aren't academic geniuses, they've got to be seriously smart to make it all work.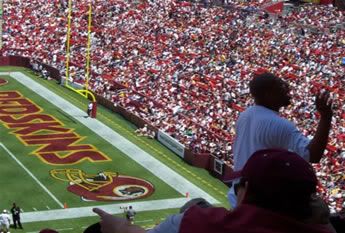 I was pleased to see a bit of banter between the fans going on. The 'fun day' was free, and you could sit anywhere, so I scaled one of the huge stands to find the shade, and ended up amongst a few Ravens fans (Baltimore is only an hour or so from DC - in fact FedEx Field is actually in Maryland). Of course, most were Redskins fans. This bloke was constantly standing up and shouting at a couple of Ravens supporters, telling them to
"Go on back to Bal'more"
, amongst other things. But it was all reasonably good natured. The vast distances between American cities means very few away fans make it to games.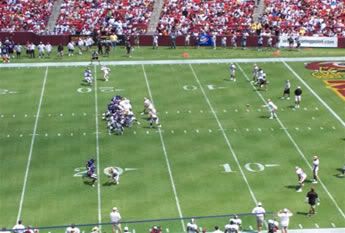 Washington practice their punting. They went through this meticulously, coaches with clipboards keenly watching each man as the ball was kicked away. Checking their decision making, where they put their feet, how high their hands were, how they adapted to a Baltimore player coming at them. The punter got his kicks measured (those yard markings come in handy). After a few, some of the players were rotated, to give younger ones the chance. Rookies and free agents for hire tried to impress the coaches as the first teamers took a breather. For them, with one good move they could be nearer to getting a contract and at least the NFL minimum salary of $275,000. They brought on a Rookie punter to have a go, and all of his kicks wobbled and died, barely making it half of the way of the incumbent kicker. The coaches made their notes, and he trudged off the field and sat down.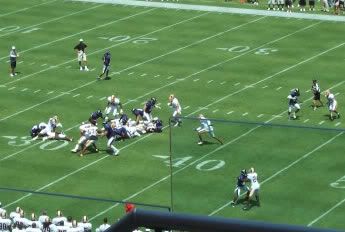 This was what the crowd had come to see. I've followed the NFL since it was first broadcast on UK TV in 1985, and have been to the US four times, yet never been to a game. So for me, I guess this was it. The first teamers had a quick 'game', with a few rules to avoid serious injuries - nobody was allowed to touch the Quarterbacks, the stars of the team. This photo captured one of the biggest moments of the match. The Ravens running back (entering the crowd of players on the left), jumped over a fallen player and was walloped by safety Sean Taylor (running just above the number '40' on the turf). The crowd all jumped up and started yelling, as the Ravens player had to be helped off the field with a concussion. Soon after, the Redskins intercepted a pass from Baltimore QB Steve McNair and scored a touchdown, winning the game, and sending the faithful home happy.