The Top Gear team (L-R) Clarkson, Hammond, May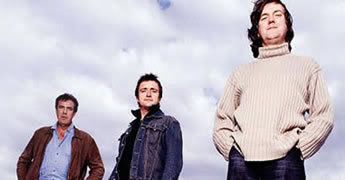 8pm to 9pm Sunday evening was one of those TV head-to-heads that cause bickering across the nation's living rooms. On BBC 1, Kevin Costner's hauntingly timeless portrayal of Robin Hood Prince of Thieves went more or less completely ignored (and not just because of that bloody Bryan Adams song), as the live finale of Celebrity Big Brother went up against the start of the new series of the motoring programme, Top Gear. It'll be interesting to see the viewing figures for the major channels - I'm not holding out much hope for Channel Five's rerun of the Nutty Professor in that particular battle. Rather, 'Five' as the channel is simply referred to these days. I'm sure inevitably it will become '5ve', then just '5', then 'ƒ', or something. The nation's remotes, clickers, zappers, widgets (depending on where you come from) were doubtless fought over as the UK chose between feckless gits hooting at the stupid and racist; and Big Brother.
For the uninitiated - and in this case that basically means for the non-Brits reading this - the annual slagfest of Celebrity Big Brother has this year been crapped to a new low by the gormlessness of Jade Goody and the rest, but then spectacularly enlivened by allegations of racist bullying from three female celebrities towards the Bollywood actress Shilpa Shetty. Tens of thousands of complaints from members of the public launched police investigations, caused questions to be asked in the House of Commons, and even the burning of effigies in the streets of Shetty's Indian home city. Oh, and soaring ratings. With the future of the Big Brother format hanging in the balance, and even the future of Channel 4 uncertain as well - London Mayor Ken Livingstone called for them to be stripped of their franchise for their racism, which is a tad rich
coming from him
, I think - Shilpa won the contest by a landslide public vote.
But going against that - and if I was still a betting man, getting more viewers than it - was the first episode of the ninth series of Top Gear. Again, for my international friends, it's a light-hearted topical motoring show with a mixture of fast cars, reviews, and mindless pyrotechnics. Having said that, the show's Wikipedia entry says right near the beginning that it has 350 million viewers worldwide, so you probably already know about it. Presented by three 'normal blokes cocking about' to use their own words - Jeremy Clarkson, Richard Hammond and James May - the franchise was rejuvenated in 2002 after being cancelled the previous year due to falling viewing figures. Since then the knockabout format has pulled in the public, and also a few Emmy's and BAFTA awards. But the series 'rocketed' to the UK's attention when a landspeed attempt last summer went appallingly wrong, and almost killed Richard Hammond in a 288mph dragster crash. Tonight, in that first new episode they showed the footage of the accident, and the nation tuned in.
I don't think I ever used to watch Top Gear, even in the musty days of Quentin Wilson and Tiff Needell - and certainly back then Big Brother was just a glint in a Dutch TV executive's eye. Since
Jeremy Clarkson
took over presenting duties, it was banned in our house - along with anything featuring Noel Edmonds, Jeremy Beadle, or Tommy Cooper (the latter for a very good reason, which we don't discuss). And I certainly don't watch Big Brother, ahem, of course. However, having said all that, Clarkson can be - look away now Dad - highly amusing. For instance,
here
is his review of the Vauxhall Vectra VXR - a vast improvement on the Mark One Vectra, which he reviewed by
'remaining mute and drumming his fingers on the roof of the car for a full minute.'
Yet it's also highly annoying at the same time. I just don't get it.
You get the feeling that the producers of Big Brother would leave a dead hooker in the house to generate ratings, so the BBC's decision to wait until now to show the footage of Hammond rolling through the grass is fair enough, I guess. I did watch it - if nothing else to get the info so I could write this post - and it was rather odd to see the studio audience essentially cheer him for not dying. But it was handled well, after the usual cocking about - and a rather amusing attempt to repave a section of road in 24hrs - they showed the tape and had Hammond describe what was going on. At almost the exact time over on Channel 4 Shilpa Shetty was being crowned the winner of BB, an item which made second place on the BBC's 10 o'clock news (Hammond's return was the next piece).
So why do I like watching Top Gear? It crassly glamourises speed - something the show's producers adamantly deny - it gives Clarkson a stage for his sometimes iffy sense of humour, and tonight's celebrity guest was Jamie Oliver, for pity's sake. I have no interest in cars, I've never driven or even had a lesson. I don't know one end from another, when they talk about horsepower and transmissions and stuff they may as well be talking a foreign language. They rely far too much on daft stunts, blowing up caravans and soforth, and they do it all in front of a braying studio audience of sycophants. But it's great. I can't explain it, I watch it every week, feeling slightly dirty. Of course, when put up against Big Brother, I'd quite happily watch anything. Even Kevin 'I'm Rah-bin of Lock-ersley' Costner on the other side...
Apologies over 'racist abuse' on BB
Official Top Gear website
Top Gear presenter critically injured
Top Gear's Hammond cheats death
Youtube clip of Top Gear's aquatic car challenge