Doing the Monja in Kita-Senju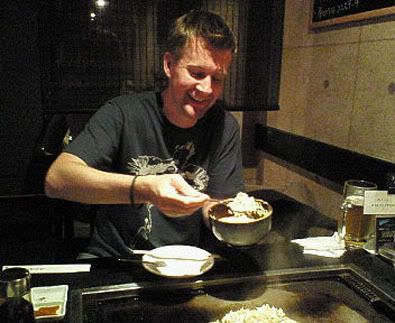 Something destined to be added to pub quizzes up and down the country this week is the question
"What does London have 50 of, Paris 98, and Tokyo 191?"
The answer is Michelin stars. For the first time ever the rotund tyreman of France has transplanted himself to an Asian city, and the anonymous reviewers scoured back streets to find out just how many fantastic restaurants there are in Tokyo. The result must have amazed the foodie industry in France - and probably Japan as well, having usurped the gastronomic centre of the world. The reviewers judge each eating place on a range of criteria (according to the Michelin website):
'product quality, preparation and flavors, the "personality" of the chef and the kitchen team, consistency over time and across the entire menu, and value for money.'
I've eaten out several times in Tokyo, but as yet never in the kind of establishment vying for the attention of the rubberised Frenchman. Michelin Guides were first produced as a handy leaflet for chauffers, detailing lay-bys and
'garages avec pompe a pneus'
, and soforth. It's fitting that today the guides are likely read by people who employ chauffers to shuttle them around, as they fork out hundreds of pounds at a time for something artfully arranged on a plate and dribbled with redcurrant 'jus'. Places like Joel Robuchon's Ebisu castle, which knocks out an 18 course banquet for ¥35,000 (£154) are waaaaay outside my price range (although they have set menus for about a quarter of that price). Robuchon won six stars for his Tokyo empire.
What a great job the reviewers had, dining out on incredibly intricate menus night after night. Japanese food can be stunning, in terms of presentation, the mixes of flavours, the freshness of ingredients, and of course the overall taste. When I was there the other week I again made an early-morning beeline for the Tsukiji fishmarket for a 7:30am sashimi breakfast. You pick one of the tiny, narrow countered places there, and duck into the inevitable cries of
"Irashaimase!!"
. The cheerful but earnest sushi chefs quickly go about their business, and within a few minutes you've got the best sashimi you'll ever taste (outside of a Michelin starred restaurant, possibly), half of it unrecognisable, but all of it delicious.
Udon and sobu noodles are wonderfully filling, especially in the slurpy ramen bowls - I amused a cafe of locals by trying to loudly (and correctly) eat them, so much so that they all waved at me as I left. Tonkatsu is breaded pork, eaten with sesame-coated cabbage and plenty of beer, if you're in a hurry you can go for yakitori from a stand-up bar, or curry ordered from a vending machine but eaten inside. Once I managed to have a kaiseki banquet on the southern island of Miyajima - the pinnacle of Japanese dining (and presumably where most of the stars were awarded). Course after course of single dishes appeared, without explanation - tiny shellfish, a small plate of sashimi, a single palm-sized grilled fish, an un-nervingly large marine snail still in the shell, bacon served on a bed of ice. It was all incredible.
But some of the best Japanese culinary experiences are the participatory ones. Thanks to the trend for this shared dining experience, chain restaurants like Benihana have spread out across the West - but the authentic ones are of course far better. Two beer loving friends of mine, Sachika and Yuko, took me to a backstreet place in Kita-Senju, which turned out to be a Monjayaki restaurant. Similar to okonomiyaki, monja is cooked by you at a furnace-like hot plate at your table (well, the plate really
is
your table). Ingredients are mixed up, cold, in a bowl before the solid bits are plopped into a ring shape, and the liquid sauce dribbled into the centre. It's all folded in and eaten with nifty little metal spatulas. The place we were in was totally in Japanese - I'd never even have found it, much less worked out what to do, without help. I'm sure the Michelin reviewers avoided places where they had to cook their own food - but that's their loss...
Michelin publishes guide to Tokyo
Tokyo - Land of the Rising Stars
[Guardian]