Your author looking casually uncomfortable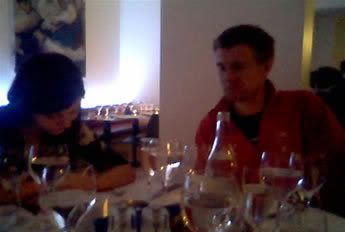 First night in London got off to an exciting start, with something of an unexpected taste of city extravagance. Just before setting off on the train I discovered that for one night only two friends of mine would be in London, on the way from Kampala to Calgary (a journey many people have undergone over the years). So plans were hatched and schemes proposed for a single night in the city to see them off for their new chapter in the frozen slopes of the Rockies. After some blue sky 'outside the box' thinking - not to mention a bit of frantic Googling by the erstwhile Mr. Braeburn - we secured ourselves a slot at a staggeringly exclusive-sounding eatery in the heart of St James's. Normally totally out of our league (and we out of theirs), a TimeOut deal meant three courses plus Champers for £22. I say!
So we arrived at the appointed hour and found - admittedly unsurprisingly - every single man inside the restaurant wearing a suit. The girls in our party were looking the part, but Mr AG, GA, and myself were dressed in our normal jeans and shirts. The epitome of urban relaxed style we may be, but this place was literally around the corner from the Ritz. Afterwards I found the place's website and it listed their 'regular clientele' as -
"the courtiers of the two Royal palaces nearby, the art dealers and money men of St James's, and the ladies who lunch after a morning's shopping in the fashionable shops of Bond Street."
But clutching our printout of cheap deals to be had, we timidly introduced ourselves and were shown to our table.
To be fair, nobody batted an eyelid - even if I was half-expecting a moustachioed Maître d' to sidle up to us and enquire if we would be more comfortable in the jacket and tie he would be holding. He did actually come over (and he didn't have a moustache), but only to wish us good eating. The restaurant was all entirely stark white, with dim lights and odd-looking large paintings on the otherwise bare walls. High glass ceilings rose overhead, and we joked that an unseen camera would be watching to propel us out of an ejector seat if we used the wrong spoon for our soup. I think we got away without any glaring errors of etiquette, although sharing half-eaten courses around is probably frowned on in those circles, it meant we could all sample what was on offer.
For the record, I had
'Pear and Escarole Salad'
, primarily because I'd never heard of Escarole and wondered what it was. The salad consisted of a few random leaves, walnuts, pears and thick gooey cubes of salty Stilton, so we assumed it was a type of cheese - but after checking the internet later I found Escarole was one of the leaves (it's an
Endive
, apparently, a member of the Chicory family). It was nice though - and preceeded my main course of Lamb and Purple Broccoli with seasonal vegetables, after which I had a rather tasty Ginger Pudding in Lime Custard. I was attracted by the innovative nature of the custard, and it was very good. So all in all, initial misgivings aside, it was a very pleasant meal, and I was pleased that the Sydney Swans top I was wearing attracted few stares amongst the city types tucking into their expense account-funded dinners. (I bet they knew what Escarole was)
After the meal we strolled along Jermyn Street, which has an amusing selection of incredibly posh shops for elderly well-to-do London gents. Many tailors and makers of silk shirts and ties, window displays of satin dressing gowns and scarves (I felt a subtle twinge of aspiration considering the success of my lounging trousers) [see below]. There were at least three smoking shops, with racks of Sherlock Holmes-esque pipes, tobacco pouches and thick cigars. One even had a display of smoking wear - jackets and fez-like hats -
"to keep the hair free from the smells of smoke"
. A shaving shop next door contained a huge selection of old-fashioned badger hair shaving brushes, in every conceivable size, along with a Titanium shaving kit, and fake-ivory handled Mach 3 attachments, for the Gentleman who finds ordinary Mach 3's beneath him.
'Better than the best a man can get'
should be their slogan - indeed it could apply to the whole of Jermyn Street, which I recommend a stroll down, as it was hilarious.
Anyway, our evening ended at Leicester Square after a walk through Piccadilly Circus, which I'd never seen at night before despite all my previous trips to London. It was pretty impressive, although it paled into comparison with the acreage of Neon I saw in Osaka (I have to keep mentioning it to remind myself I was actually there). As to the rest of my stay, tomorrow I'm off to the British Museum, I'll be taking lots of photos, so check back then for plenty of facts. Everybody likes facts. My Grandad's currently downstairs rattling around in the kitchen cooking up his Moussaka special - tonight's meal will be in far more relaxed conditions that last night's...