Question 7...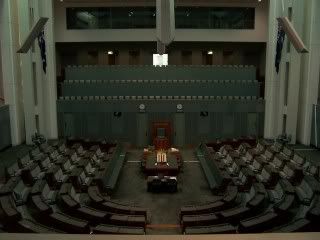 The Australian Government today released a 40-page booklet to be issued to all prospective immigrants. Inside, it summarises the history, people and customs of the country. Also for the first time, those that wish to become part of life down under must take a written test of twenty questions. If they score less than twelve correct, they will be refused entry (although only until they can re-sit and exceed the pass mark).
"This is part of the government's emphasis that we continue to get that balance between diversity and integration correct in future, particularly as we now draw people from so many different countries and so many different cultures."
said the minister in charge, Kevin Andrews. Well, I managed to get through the immigration checks when I moved to Sydney (i.e. I bought a visa) - but could I qualify if I had to...?
[correct answers in brackets. And no, I didn't cheat and use Google]
1. In what year did Federation take place?
Er, blimey. I have no idea. Not a good start.
[1901]
2. Which day of the year is Australia Day?
I was only there for one Australia Day, but I'm pretty sure it's the 25th of January.
[January 26th]
3. Who was the first Prime Minister of Australia?
Um...
[Edmund Barton]
4. What is the first line of Australia's national anthem?
I know it's called 'Advance Australia Fair', and I also know that isn't the first line.
['Australians all, let us rejoice']
5. What is the floral emblem of Australia?
The floral emblem of New South Wales is the Waratah. No points for that though. The gum tree?
[Wattle]
6. What is the population of Australia?
They must be able to read the booklet first, I would think. They can't expect potential immigrants to know this exactly, surely? And anyway, if you were applying for immigration it would mean the answer would shortly be wrong.
[approx 21m]
7. In what city is the Parliament House of the Commonwealth Parliament located?
Canberra! I've been round it!
[Canberra]
8. Who is the Queen's representative in Australia?
The Governor General, who lives in a very swanky mansion at Kirribilli opposite the Opera House. Don't ask me his name though.
[The Governor General]
9. How are Members of Parliament chosen?
Er...they get elected?
[Elections]
10. Who do Members of Parliament represent?
Their constituents. Or, when necessary, themselves.
[The people of their electorate]
11. After a federal election, who forms the new government?
The party that gets the most votes.
[The political party or coalition of parties which wins a majority of seats in the House of Representatives]
12. What are the colours on the Australian flag?
Red white and blue. An easy one there.
[Red White and Blue]
13. Who is the head of the Australian Government?
The Prime Minister, John Howard (of whom I am not a fan - not that I would write that in my answer)
[The Prime Minister]
14. What are the three levels of government in Australia?
Um. Local, State and Federal?
[Commonwealth, State or Territory and local]
15. In what year did the European settlement of Australia start?
The first fleet arrived in 1788, I read a book on it when I was there.
[1788]
16. Serving on a jury if required is a responsibility of Australian citizenship: true or false?
It is here, so I'll go for true.
[True]
17. In Australia, everyone is free to practice the religion of their choice, or practice no religion: true of false?
Sounds like a trick question, but I'm going to push the boat out and say true.
[True]
18. To be elected to the Commonwealth Parliament you must be an Australian citizen: true or false?
I would think so?
[True]
19. As an Australian citizen, I have the right to register my baby born overseas as an Australian citizen: true or false?
A lot of these are true, which makes me worried - but 'True' again.
[True]
20. Australian citizens aged 18 years or over are required to enrol on the electoral register: true or false?
Someone told me when I was there that voting is compulsory, so it's another true. So...did I pass?
[True]
Thirteen out of twenty - one better than the pass mark required. After a year of living in Australia, I managed to accumulate only enough basic information to scrape through as one of them. Thankfully, they don't ask you these questions when your visa runs out to see what you've learned on your stay...
Australia unveils immigrant tests
[BBC]
Citizenship test questions
[Sydney Morning Herald]