Fasole cu carnati
- Romania's staple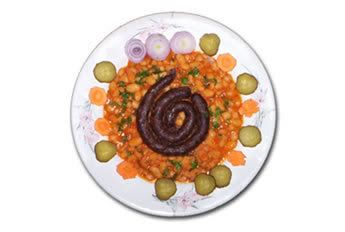 Following on from my
previous post
about the UK's national dish (the mighty CTM), I've been looking into other countries' favourite meals, those that reflect who they are and their attitudes to food and cuisine. Wikipedia has
a list
of some of these, slightly contentious in parts - Scotland's National dishes are apparently haggis and deep-fried Mars Bars (although I've
written about that
before too, so I'm just as guilty of stereotyping I guess). In fact, England's other national dishes include the English breakfast, Northern Ireland's is the Irish Fry (a 'heart attack on a plate'), and Wales has Welsh Rarebit -
"It is made by grating cheese, blending it with beer or a little milk and butter, seasoning (particularly with mustard), and spreading the mixture onto hot toast; the whole is then grilled in the British fashion: that is, heated briskly from above"
. The sick man of Europe, eh?
But what about other nations? What if you're in the mood for a Venezuelan? Or are in Tescos and can't decide between the
Bryndzové halušky
or the
Gado-Gado
? We've all been in a foreign country and pointed hopefully at something on a menu, only to have the nearby diners suddenly hush as you inadvertantly order the
'curried pelican testicles à la mode'
. Hopefully you might avoid such trouser-loosening incidents if you learn a couple of popular dishes for your destination, and stick to them. Some can be all-encompassing - like the Korean speciality
Bibimbap
, which I first had on a plane somewhere over the Pacific Ocean. Meaning 'mixed meal', it's a DIY stew involving some or all of white rice, chicken, beef, fried egg, chilli, prawns, cucumber, courgette, tofu, carrot, radish, fish, mushrooms, doraji (bellflower root), spinach, soybean sprouts, and gosari (bracken fern stems). Apparently sometimes a leaf of lettuce may be added - but you want to leave room for the ice cream afterwards.
Stews seem to be fairly popular in the national dish stakes. Brazilians have their
Feijoada
(black turtle beans with salted pork trimmings [ears, tail, feet], bacon, smoked pork ribs, at least two types of smoked sausage and jerked beef loin and tongue). A good one will be dark purplish-brown, apparently. Vietnam has Phở, which
Wikipedia
helpfully mention is
'pronounced /fə/ or /fʌ/ by English-speakers'
, although my Vietnamese source told me to pronounce it 'Phur', and I know better to argue with her, don't I Lan? Eastern Europe does a good line in stews, of course - like
Goulash
,
Borscht
, and so forth.
Scandinavian countries famously enjoy a slightly acquired taste in fish products. The Swedes have
Lutefisk
- air-dried Cod soaked in a mixture of water and lye (caustic soda) until it reaches a pH of 11-12, putting it dangerously close to household bleach (pH 12.5). Leave it too long, and the fish fats turn to soap -
saippuakala
in Finnish, or 'soapfish'. Before this stage is reached the Lutefisk is soaked for another five days to make it edible, although I've never actually tried it. However I'd happily sample it if the alternative was
Hákarl
- the Icelandic shark dish left to putrify in gravel pits for up to three months. Dryly referred to as an 'acquired taste', fresh Greenland Shark meat is said to make people vomit blood - but rotten, it tastes of strong cheese. Mmmmm.
Staying underwater, as it were, we find the famed Japanese delicacy
Fugu
. An unfortunately toxic species of pufferfish, I saw them swimming around in grimy tanks outside seafood restaurants in Tokyo, and for sale at the Tsukiji fishmarket. It has been banned on several occasions throughout Japanese history, and is apparently the only foodstuff the Emperor is not allowed to eat, for his own safety. Since 1958, only qualified chefs can prepare it. Wikipedia has a great quote on the rigorous testing procedure they undergo.
"The fugu apprentice needs a two- or three-year apprenticeship before being allowed to take an official test. The test consists of a written test, a fish identification test, and a practical test of preparing fugu and then eating it. Only 30% of the applicants pass the test. This, of course, does not mean that 70% die from poisoning; rather, they made a small mistake in the long and complicated procedure of preparing the dish."
Wiki also reveals the most prized part of the fish -
"the more poisonous testicles of the fugu can also be eaten; they contain a milky liquid and taste slightly salty."
Actually, I think I'll have the shark.
How to prepare Hákarl