102 views
(Link)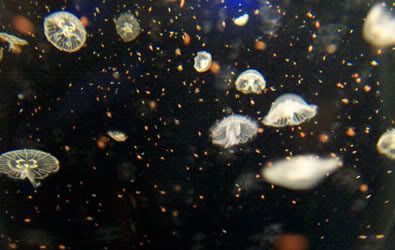 Flickr recently introduced all kinds of tekky-looking facts about the photos you upload, so now you can tell precisely how many people look at your photos and where they come from. I always try and add to DUaB what I think are my favourites - but now I also know what everyone else's favourites are. Here are my eight most popular pics, in reverse order - starting with this photo of pea-sized baby Jellyfish I took in Vancouver aquarium.
111 views
(Link)
Next most popular, this rather dull photo of Heathrow's Terminal One, taken just after I took off on the short flight to Edinburgh. Most views of Heathrow are like this - grey and chock full of planes.
131 views
(Link)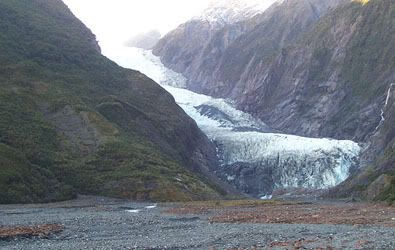 A bit more exotic, the Franz Josef Glacier in New Zealand is pretty amazing. I'd think most people who have done the circular trip round the South Island will have taken this photo. We stood here and our guide asked us to guess how long it would take to reach the ice. I reckoned about 20 minutes - when he said it would be over an hour nobody believed him. Of course, he was right - the scale of this thing is amazing.
132 views
(Link)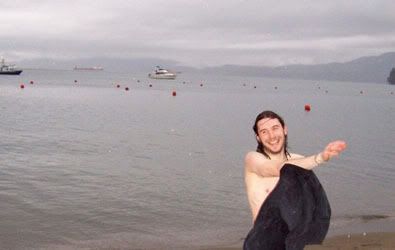 Another photo from Vancouver, this popular photo is my mate Andy having just jumped into English Bay on January the 1st 2007. The annual Polar Bear Swim is one of the highlights of the NYE period in Vancouver, and he just couldn't resist joining in. Two things about this pic - 1) No he isn't naked, and 2) No I didn't join him.
159 views
(Link)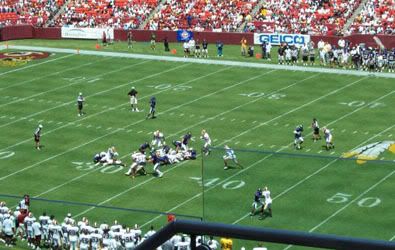 Something of theme starts to develop now - this is one I took in August 2006 on a trip to Washington DC, during which I went to a preseason practice game of the Washington Redskins. This was one of the many action shots I attempted, with Redskins safety Shaun Taylor (nearest the number 40) sprinting in to make a tackle. Taylor - who had picked up a knee injury - was shot dead a couple of months ago in his Miami home, surprising burglars who thought he'd be away during the season.
227 views
(Link)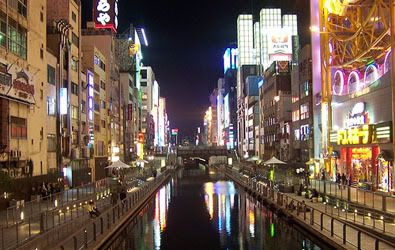 One of
my
favourites, the Dotonbori area of Osaka apparently was the basis for Ridley Scott's Asian District in
BladeRunner
(although I've heard that claim about other places too). Anyway, the Ebisubashi bridge canal is amazing, this picture really struggles to do it justice.
282 views
(Link)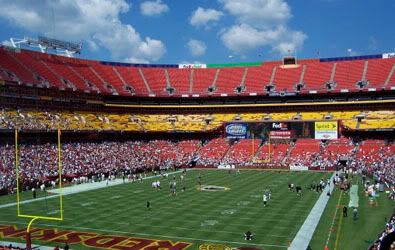 My second highest-visited Flickr photo is also an NFL-related one, of the inside of FedEx Field, taken during the same Redskins visit. I'm not a fan of theirs, but had the chance to go to the 'family fun day' preseason matchup with the Baltimore Ravens. It was well over 100 degrees, and the stadium PA played incessant deafening R&B music. All very different from a rainy January at the Rovers.
425 views
(Link)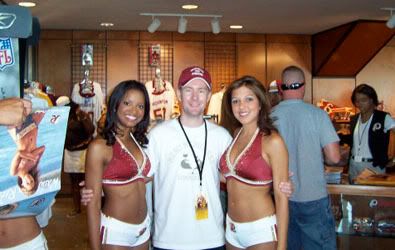 But the undisputed champion in the most-viewed stakes is this rather touching photo of me looking rather cheesy posing with a couple of Redskins Cheerleaders. Over 400 views, it's amazing - if I'd known I'd have pulled a less gimpish expression, but there you go. The Cheerleaders didn't mind, they liked my accent - and obviously their profession has many fans amongst the users of Flickr...
Next up, I'll post my version of Popular Pics - the 8 photos I think
should
be viewed the most. It might take a while to narrow it down, there are hundreds...