I just can't resist a balloon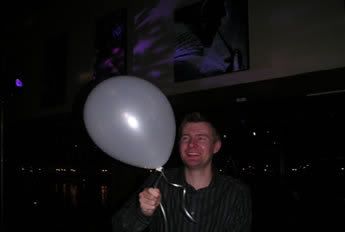 2007
, and DUaB lurches wildly into it's fourth calendar year. Blimey. So this is me with a helium-filled friend, taken at about 2am at the NYE party we were at last night. After the tiredness of yesterday, we had a leisurely morning in our luxury pad. One of the great pleasures of visiting North America is walking to a nearby bagel shop in the morning and stocking up on warm savoury treats. I think only the French boulangerie can top it for a start to the day - and the one we found at the top of our road had a huge oven where they were baking bagels as we watched. Thankfully the weather was still decent - always a concern on the 'Wet Coast', so after an enjoyable chat with our host upstairs and a meeting with the cats, we went out for a walk along the beach.
Kitsilano is our home for the next few days, a trendy neighbourhood in NE Vancouver. It's entry on Wikipedia describes it as a
'...neighborhood known for it's young families, yoga studios, organic produce shops, and new or renovated condominiums. It is also home to Greektown.'
We haven't come across any Greeks yet, but we only started exploring yesterday morning. (I'm writing this at about mid-day on Jan 1st). We walked along Kits Beach for a while, with amazing views over English Bay to the distant shore and mountains. Large oil tankers sat serenly in the water, waiting for someone to steer them up river. They float timber down the river from the upland forests, and every now and again you notice half a tree trunk floating merrily along, plenty of which are washed up on the beaches.
In the afternoon we had a persual of the markets on Granville Island - a semi-touristy enclave of shops and foodie places under the main bridge into the Downtown area. A quick shuttle on a tiny ferry, and we went around the city proper and explored Gastown. We must have walked a fair way, as the jetlag began to kick in again and briefly we began to flag. But only briefly, as we zipped about on the buses (free on NYE), back to Kits and found a fantastic Japanese restaurant for our last meal of 2006.
Kibune Sushi
served us some wonderful stuff, a perfect pre-party feast. A quick ironing/changing pitstop later, we were back on the way to Granville Island, for an NYE bash.
Being on the far west coast of Canada, we were one of the last groups of people in the world to celebrate the new year. Only Alaska and Hawaii were behind us - and seeing as last NYE I was in Edinburgh, I think I got an extra few hours squeezed out of 2006. This whole business of going away for new year is great, I heartily recommend it. It's such an anti-climax usually, that when you're abroad it's always going to be one to remember.
Here's
a post about some of my previous NYE experiences, but the ones in Paris and Sydney stand out. And now so will Vancouver, as we ended up at a party featuring some great bands, loads of pitchers of new and unusual beer, party hats, dancing, and cheap champagne. So happy new year from DUaB, and I hope you all have a great 2007. This afternoon we're off to indulge in a traditional Vancouver new year activity, involving polar bears. Stay tuned...