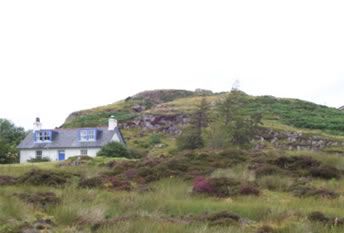 Come with our five brave adventurers as they step back in time to follow in the footsteps of ancient peoples. Firstly, the evocative Fort Dunadd - one of the most important Celtic sites in Scotland. Populated aroud 500AD, it was the centre for the Kingdom of Dalriada - a fierce tribe stretching from Northern Ireland to the West of Argyll. Frequently at war with the Picts, the leadership of Aedan mac Gabran made sure the Dalriadans punched above their weight, and under king Kenneth I MacAlpin the two bands were unified and became Scotland - 'Scotii' being the Gaelic for
'coming from Ireland'
. I'm guessing the king lived in that nice cottage, and his subjects huddled around that big rock in the garden.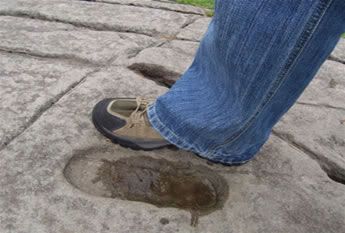 It turns out Dunadd
is
actually the mound - so after a short climb (during which Ali had a close encounter with an
Adder
), the ruined fort could be found. It's really pushing it to call it a fort - grassed over boulders might be a better description. But then it is 1500yrs old. Ancient ceremonies took place on top of the rock - the Dalriadans used a carved footprint in their coronation ceremonies. Possibly Kenneth himself daintily placed his foot in the cut. He must have been tiny, as apparently it's a size 6 (UK measurement). As you can see, my manly Sassenach size 10's almost seem to fit - what manner of Scottish trickery is this?
They may not have been much good at modern shoe size measurements, but the Dalriadans could sure find a rock with a view. Dunadd sits in the middle of a wide valley, surrounded on all sides by a boggy marshland called Moine Mhor. Numerous Lochs can be seen in the far distance, with mountains and hills jutting up abruptly at the edges of the flat plain. Your intrepid explorers were there on a lovely day, but even then the wind pelted across the valley - which thankfully kept the midges grounded. This picture captures the moment when Ali wishes she'd stayed in the car, after listening to one too many Loch-based facts from your author.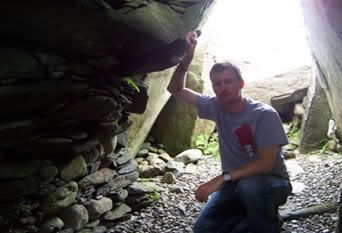 OK, in my defence - unless you're wearing a leather jacket and carrying a bullwhip, it's very hard to look cool in a tomb. Lara Croft is the only other person to manage it, but a) she's not real, and b) the image of me in hotpants is probably too much for many of you to bear. This is the wonderfully named
Nether Largie cairn
, a chambered tomb dating from the Neolithic Period, with some bits added to in the Bronze Age (the Bronze bits, I guess). And a large slug, when we were there. Amusingly, you can shove your hands down through the gaps in the roof to surprise people taking their photo - but equally (and possibly more) amusing, you can throw stones back out of the holes at those wacky funsters, causing them to fall over.
Two miles North of Kilmartin (the nearest modern settlement to all of these sites) is the ruined Carnasserie Castle, and your brave band of amateur history sleuths fill the time until the Pub opens by paying it a visit. A good example of a French Renaissance-influenced tower-house, as I'm sure you're all thinking, it was completed in 1565 by the Rector of Kilmartin, Bishop John Carswell. The castle was demolished in 1685 by MacLaine of Torloisk when it's then owner joined in the Monmouth Rising. You always sign up for these type of things without thinking through the consequences.
The castle is in two parts - a tower house, and a hall house - essentially a livingy bit and a towery bit. Both come with spiral staircases and archery slits. Today, all the internal floors have gone, but you can still climb up both sides to get good views of the surrounding hills and valleys. For such a dilapidated building, they don't half have a nice-looking hedge. If they put the same amount of effort into looking after the castle, maybe it wouldn't be in such a state. Or maybe the hedge and lawn are original features, and the inhabitants designed them to be too nice for attacking forces to cross.
"Och aye, Hamish, we cannae charge the ramparts o'oer there. Look at yon lovely hedge. Aye, we'd best come up wi' another plan"
*
* This is actually how all Scottish people talk, even today.