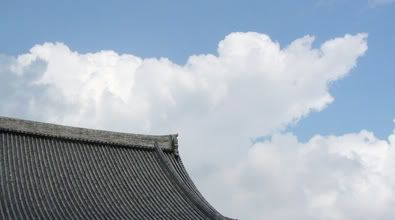 Well, the Tokyo trip may be a diminishing memory, but I've still got a several photos to add to the blog, so stand by for a few more posts, wringing the last drops from the holiday. Here we have an arty shot of the Senso-ji temple roof and a similarly-shaped cloud. Never let it be said I can't do composition...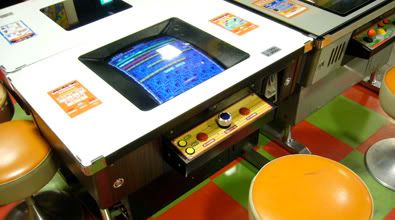 Think of Japan and technology, and videogames often spring to mind. When I was in Osaka in 2005 I had great fun wandering around the gaming arcades looking at the machines and the serious expressions on the players. In Akihabara last week I explored a seven storey SEGA GiGo arcade and watched the gamers, some of whom were encased in massive Gundam pods (
see here
), blasting away at giant robots. I wouldn't have lasted long - well, I wouldn't have been able to work out what to do - so I made do with this, a retro Arkanoid arcade table-top in Odaiba, and happily wasted a few hundred yen pinging balls around.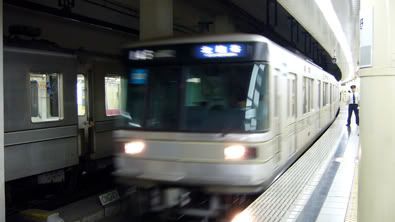 Another stereotype is the perfectly timed business of the Tokyo metro, and I have to say it's always seemed true to me. Running every few minutes from 5am to midnight, the various lines make it easy to get around, with the circular Yamanote Line a great introduction to where each area of the city lies. It takes about an hour to do a complete loop, and with everything translated into English it's impossible to get lost. Or rather, it's impossible to get lost by going to the wrong place - leaving a station via the right exit is another matter. Even small stations have several exits, and JR Shinjuku has over 20, not including the other operators who have their stations connected. Many times I'd emerge hopefully from a brightly-lit underground expecting to find a park entrance, and instead be facing a supermarket and pachinko parlour.
A large ship berthed by the reclaimed land of Odaiba Island in Tokyo Bay. Odaiba was one of the notorious bubble-boom engineering products of the late 1980's, when the surging economy gave the impetus for all kinds of projects. Large islands were created in the busy harbour, and populated with corporate headquarters, entertainment districts, and even golf courses (Google Earth is great for exploring Tokyo Bay). The Odaiba name refers to lagoon defences that were placed nearby by the Tokugawa shogunate in response to the American fleets of the 1850's (
'Daiba'
means cannon battery in Japanese). Since then, they have been added to and developed with more and more outlandish architecture. This photo, for example, isn't actually a ship, but the Tokyo Maritime Museum.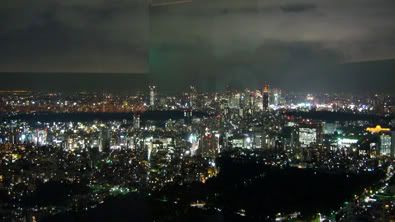 As I said in my previous post, Tokyo really glimmers at night. There are a few viewpoints around the city, the free Metropolitan Government Building in Shinjuku is pretty good - but I went up the Mori Tower in Roppongi to take a look at an exhibition of Japanese Modern Art (which was suitably bizarre and fantastic). The 780ft, 54 storey skyscraper whisked me to the top in a turbolift, and after exploring the Mori Art Gallery I went into the
Tokyo City View
and watched the lights twinkling in the distance. Here, the highrises of Shinjuku sit behind the dark stripe of the Meiji shrine complex. Another of Tokyo's surprisingly common green areas is in the foreground, Aoyama Cemetery.