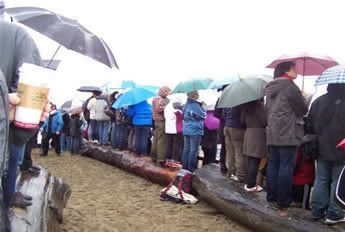 Why are all these people balancing on slippery wet logs at the beach? To catch a better glimpse of a Polar Bear, of course. This is English Bay, on the southern edge of the fist-shaped spur of land that contains greater Vancouver and Stanley Park. Every new year since 1920 foolhardy souls have jumped into the cold sea and gone for a refreshing dip. The first one attracted 10 swimmers, but things have changed a whole lot since then...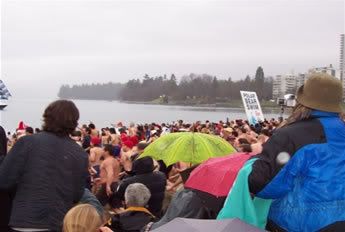 These days the event attracts thousands of people, 2128 is the all-time record set in 2000. Back in the '20s it was probably a brisk swim and a stiff handshake afterwards, but now people put on costumes and charge down the beach in a human wave with a deafening roar. To qualify for a badge, you have to register first, then immerse yourself completely in the water.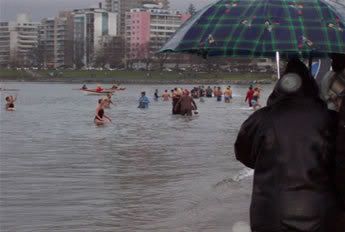 There was a marked course that stretched about 100yds offshore, and apparently the first person to complete it got an award of some kind. But most people just splashed about for a bit in the 8°C water, before rushing back out, teeth chattering. The whole thing lasted a few minutes, but other people standing on the beach who hadn't arrived in time to register decided to go in too, and become unofficial Polar Bears - like these people fully dressed.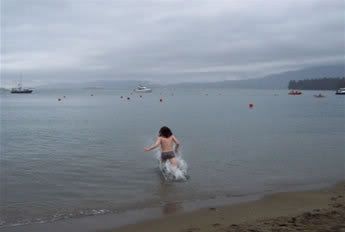 ...and Andy too. He'd been talking about doing the swim ever since we heard about it a couple of days ago - but we turned up too late for the registration. So when a man next to us decided to become an impromptu participant, it was too much for him, and off came the clothes. A quick dive and a fair bit of shouting later, and he'd become a member of the spontaneous Polar Bears.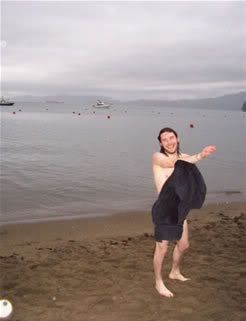 And thankfully, his new friend (who we later learned was called Warren), had brought a towel, helping Andy to avoid an entire day walking around in soaked clothes. Actually, that wouldn't have been much of a problem, as it had been pouring down with rain all day and we were all soaked anyway. Warren's girlfriend also had a thermos full of Baileys coffee, which seems to be the natural diet of a Vancouver Polar Bear. I know Andy appreciated it.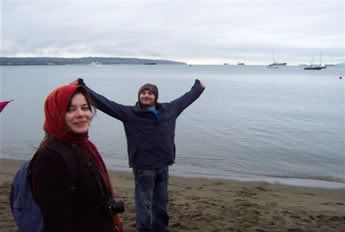 The victorious pose afterwards. In case you're wondering why your author didn't join in and become a Polar Bear too - well, I was going to, but you know, my contact lenses don't react well to getting salt water in them. And er, I don't drink coffee, so I wouldn't have had any way to warm up. Oh - and someone had to take photos of Andy doing it, so er, that's why I didn't go in. Obviously.