Harry and his minder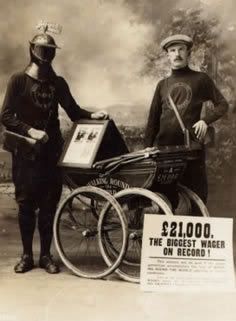 In 1907 at the opulent confines of a Gentlemen's Club in London, two raffish chaps started the type of 'What if?' conversation men always seem to come up with when alcohol is involved. John Pierpont Morgan and Hugh Cecil Lowther, 5th Earl of Lonsdale (he of the boxing belt) were probably mulling over the issues of the day - the fallout from the Russian Revolution, the first appearance of metered taxis in London, what Morgan could get named after himself, when they somehow stumbled onto a much more important topic. Would it be possible for someone to walk around the world, without being identified? Victorian England had slightly fewer CCTV cameras than the present day, but even then surely it wouldn't be possible to circumnavigate the globe without someone, somewhere, seeing your face.
It was the American banker Morgan (he did get the financial empire named after him, as it happens) who decided that it couldn't be done, and bet $100,000 to anyone who could successfully complete the task. It was at this point that Harry Bensley enters the story. A rakish City playboy, Bensley decided to accept the challenge on behalf of Lonsdale. There are various possible reasons for this, with the likely explanation being he bet his fortune in a card game with the two fat cats and lost, then pleaded with them to give him the chance to complete the wager and avoid insolvency. This could explain the amazingly harsh stipulations and clauses placed on the bet, and the rather novel method they came up with to ensure Bensley avoided being identified on his marathon trek.
As if the prospect of walking around the world was a minor thing, Morgan and Lonsdale insisted he follow a route through 169 British towns in a specific order, and then 18 countries as far afield as New Zealand and China still in keeping with their pre-determined route. Boston, Bremen, and Buenos Aires would be just some of the places Bensley would have to avoid being glanced at. He was to do all this with only a single change of underwear as luggage, and starting off with £1 in funds (to finance himself en route he would have to sell postcards). To ensure nobody would recognise him, he had to complete all this wearing a 2kg iron helmet from a suit of armour whilst pushing a pram (probably best he had the helmet on). Another man would accompany Bensley for the duration, making sure these stipulations were followed. Oh, and he also had to meet and marry a woman on his journey, despite her not knowing what he looked like.
Bensley and his minder set off on the 1st of January, 1908 from Trafalgar Square, pushing the pram containing his undies and a stack of postcards for sale. Understandably, a sizeable crowd turned up - or more likely wandered over to see why there was a half-dressed knight walking around - and the bet was on. What happened next is sadly the stuff of legend, and largely unknown. Six years later he turned up in Genoa claiming to have completed 30,000 miles of his journey and having only seven countries still to visit. Unfortunately this was August 1914 and Europe had suddenly been thrown into turmoil by the assassination of Archduke Franz Ferdinand three weeks earlier. Harry had to abandon his walk and return to the UK, where he joined the Army and was critically injured within a year in the fighting. After recovery, he lost all his Russian investments in the 1917 Bolshevik Revolution and became destitute. He died in a Brighton bedsit in 1956 with almost all traces of the bet lost - today nobody even knows where his pram and helmet are.
But some traces of the journey do survive, amidst the rumours and myths. Bensley managed to travel extensively around the Southern part of England, even if the legend has it he got as far as Japan. He met King Edward VII at Newmarket races and sold him a postcard for £5 (the story has it the King asked Harry to autograph it for him, but as this would identify him, he refused). He was actually arrested once for selling these cards without a permit, in Bexleyheath, Kent. Appearing before the local magistrate in his helmet (he of course would not remove it), an explanation of the bet so tickled the offical that Harry was actually tried as 'the man in the iron mask'. He was fined 2s. and released.
It's not known if Bensley managed to remain anonymous the entire time (wherever it was he got to in those intervening years) - a hotel chambermaid was once found hiding under his bed, no doubt tempted by the £1,000 reward a British newspaper had offered for the first person to successfully identify him. One part of the bet he did manage to meet, however, and it was probably the most implausible of the pre-departure clauses dreamed up by Morgan and Lonsdale - Bensley managed to find himself a wife. He claimed to have received over 200 proposals during his quest (although he was a renowned playboy, so there may be a touch of embellishment there). He married a Manchester pianist called Kate, albeit possibly before he left so it might not have counted, and ended up living with her in coastal Essex town working as a cinema doorman and a local Labour Councillor.
As to the bet, Morgan rewarded Bensley with £4,000 when he abortively returned to London following the outbreak of WWI. Bensley gave it to charity.
This article was written with the kind permission of Ken McNaught (Harry's great-grandson), and the photograph reproduced from his website (linked below), which has full details of the bet, the list of destinations, and more pictures - including Harry unmasked. Ken is very keen to fill in the considerable gaps to the story - so if you can help, he asks that you
get in touch
Harry Bensley