Totally gnarly! (and soforth)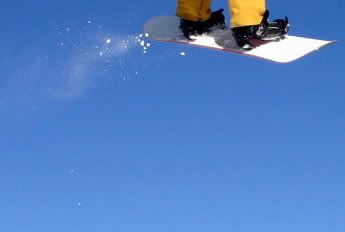 Another of the UK's great institutions is under threat. I'm talking not about the House of Lords or Big Brother here - I'm talking about Ski Sunday. With it's immediately recognisable
theme tune
, for almost twenty years it was fronted by the legendary
David Vine
, usually pictured standing ruddy-cheeked halfway up an Alpine slope cheerily introducing the latest downhill action. I know these days 'legendary' is an over-used word, but it certainly applies to Vine when you look at the list of TV programmes he's fronted over the years -
Sportscene, It's a Knockout, Quiz Ball, Rugby Special, Match of the Day, A Question of Sport, Grandstand, Superstars, Starshot, the Winter and Summer Olympic Games, the Eurovision Song Contest, Miss World, Wimbledon, and the snooker
- the latter two for 20yrs apiece.
We used to watch it almost every week in our house, although to my knowledge no member of my family has ever been skiing, or has any interest in winter sports. It served a useful stopgap between the end of Sunday Grandstand and the beginning of the decent evening television - and it didn't involve antiques, which is always a danger in that part of the schedules. Back in those days, it was always the Austrians and the Swiss that dominated the downhill in their distinctive colours (which I think were red and yellow respectively). There were always a few token Italians, Germans, Canadians and French taking part, as well as the various 'comedy nations' - like the British. The lone Brit would always run near the end in semi-darkness and trail in 45th, whilst men in overalls swept the deserted finish area.
It's an incredibly dangerous activity, of course, and whenever a lyca-clad tyrolean would cartwheel into the red netting it would be greeted with a hoot of laughter from certain quarters of my family - although not me, compassionate soul that I am. My Dad still talks about the Japanese skier who fell over exiting the starting gate, for example. Back then Ski Sunday focused almost solely on the downhill, with the odd slalom event thrown in for a bit of variety. These days it features all kinds of things, including jokey comic sections where the current presenters make their own equipment out of ironing boards and film the results - the
Top Gear
pillocks have got a lot to answer for. As if that weren't enough, Ski Sunday also now includes that impudent upstart of 'people on planks' - snowboarding.
Not just tricks and jumps, but the high-octane Snowboard Cross (or Border Cross), where four riders belt down a narrow funnel at once, over obstacles, and includes a fair bit of argy-bargy - it's the closest thing to Rollerball I can think of. Somehow I managed to watch the debut women's Olympic final in Turin last year, whilst I was on holiday in Paris. It was certainly spectacular, crashes and controversy even before the clear leader - American Lyndsey Jacobellis - attempted a needless trick over the final jump
and fell over
, losing the gold medal to the Swiss rider Tanja Frieden who had fallen and was making up ground (which I think my Dad would have appreciated).
But even this is under threat, as I hinted at the start - and it's all down to the weather. Alpine Europe is currently in the midst of a snow crisis, as vastly below-average falls have seen many resorts closed. The OECD has warned that many low-level resorts could soon be unviable, as some banks are refusing to offer loans to resorts under 1,500 metres as they fear for their future snow cover [bbc]. Last weeked the most famous downhill in the sport - and the only one I've heard of - Kitzbühel's epic Hahnenkamm, had to be cancelled at the last minute because it wasn't sufficiently covered. A last-ditch effort to helicopter snow in was unsuccessful, and the world championship event was instead switched to Val d'Isere in France. This is a major concern for Vancouver, scheduled to host the 2010 Olympic Winter Games. If the climate continues to become erratic, Europe's skiers may have a serious disadvantage. Maybe then the British - masters of the mild-weather activity - will have our day!
Concern over European 'snow crisis'
Vancouver 2010