Your author and a giant fossilised Ammonite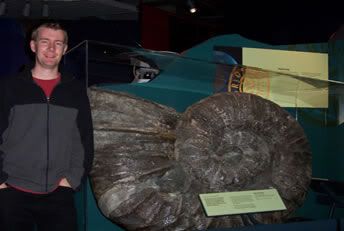 Perfect museum weather today, so for my last day in Wellington I paid a visit to the city's largest attraction - Te Papa, New Zealand's national museum. The guidebook suggested a full day to explore, which was about right as I was in there for 5hrs and rushed a few sections. It had everything from geology to photography, with a hefty chunk of maori history too, of course. As usual it was the stuffed animals that got my attention, particularly the birds I'd been looking at on my travels down south. I even managed to identify a spider we saw in the house the other day (a black-headed jumping spider). As you can see, they had the largest fossil ammonite I've ever seen, and plenty of other interesting stuff. Anyobdy thinking of coming to Wellington - it's a must-see, simple as that. But then I've always been a museum geek.

Which brings me nicely onto Star Wars - tonight myself and Edd went to the Embassy Theatre to watch the final Star Wars film, Revenge of the Sith. The Embassy is a local legend, it was refitted for the World Premiere of the Lord of the Rings in 2003 and is massive, with leather chairs and 1920's decor and fittings. It's a long way from the Preston Odeon where I saw the first Star Wars film all those years ago. How apt that I saw the final part on the other side of the world. I can still remember being taken by my Dad to see the Return of the Jedi (and I'm fairly sure the other two, earlier, films on the same day). Like any impressionable 10yr-old I wanted to jump into the screen and be a part of it - I immediately set about collecting all the figures (still somewhere at home in a battered cardboard box). So what did I think of the new film? Well, considering how much I hated the two previous new films I really liked this one - it was a great way to end my trip. But more of that tomorrow...