Barrytown beach, with the dog and the riders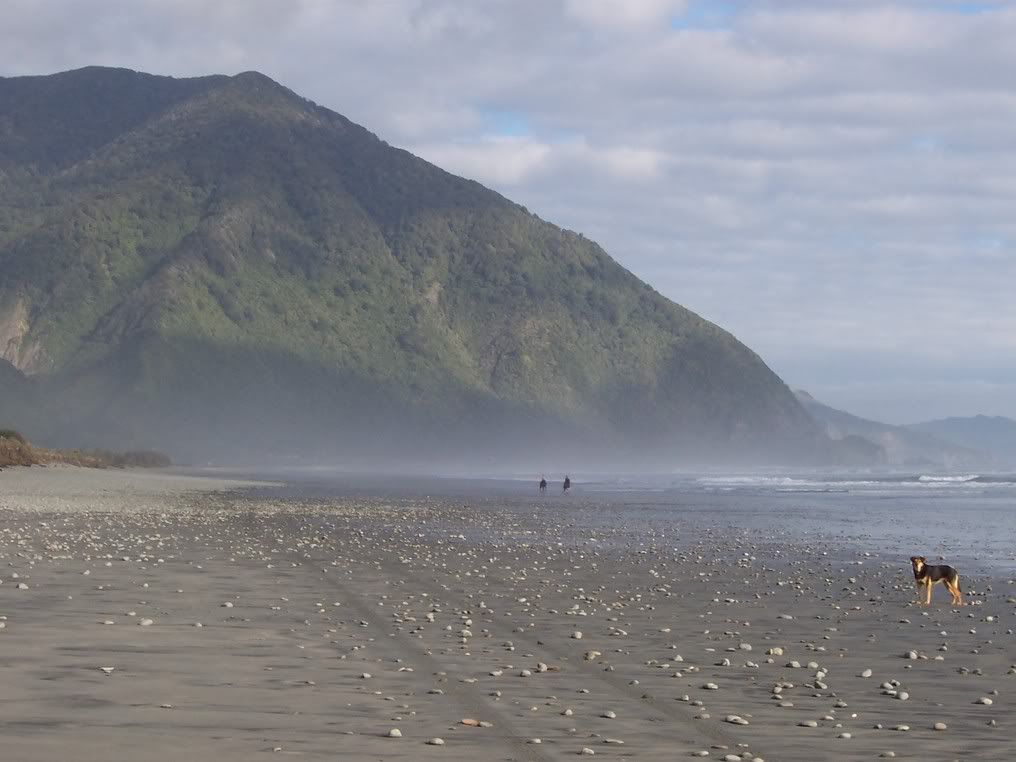 The bus trip started today - nine days of travelling in an anti-clockwise direction around the South Island, from Christchurch to Christchurch via everywhere. I'm on a trip organised by Stray Travel, which is a more 'grown-up' version of the typical backpacker tours that go round - like the pea-green Kiwi Experience buses which are universally described as the 'Little Green F*ck Bus' because of the randy 18yr olds that go round in them. I'm told Stray are for the 'mid-20's traveller' - whatever that means. Is 28 mid-20's? Don't answer that.
So the first of these buses left at 7:30am from Christchurch's Cathedral Square and took about 5hrs to crawl up the mountains I had seen from the air when I arrived. The journey was nothing short of spectacular, through the Southern Alps at Arthur's Pass. We were in a clapped-out minibus run by another company, and it was the driver's first day, so we were late arriving in the West coast town of Greymouth - but I still made my onward connection. On the way we passed a valley where there were so many avalanches blocking the road, they built a giant funnel over the route, so any rocks would tumble over this and into the canyon on the other side, missing the traffic. I should have taken a picture, it was pretty amazing.
My second bus dropped me at the hostel for the first night, in Barrytown. I say town, more collection of a few buildings and a pub. The bus group I was meeting were away for the day on an excursion, so I had 6hrs to kill waiting. I ended up walking down to the beach - a huge flat expanse of black sand with large waves crashing into the shoreline. A local dog followed me down the track and kept me company - as apart from two women on horses there was nobody for miles. Once they went and the dog lost interest I walked around for hours in utter solitude, apart from the waves and the blackflies. Eventually the flies became too much and I went back to the hostel to wait for the group. There are about 10 of them, but people come and go on the bus as it's more a series of linked days rather than a tour - so people tend to jump on and off. More about them tomorrow I guess, when we're off down the coast.