The Craters of the Moon Geothermal area, just north of Taupo, in the rain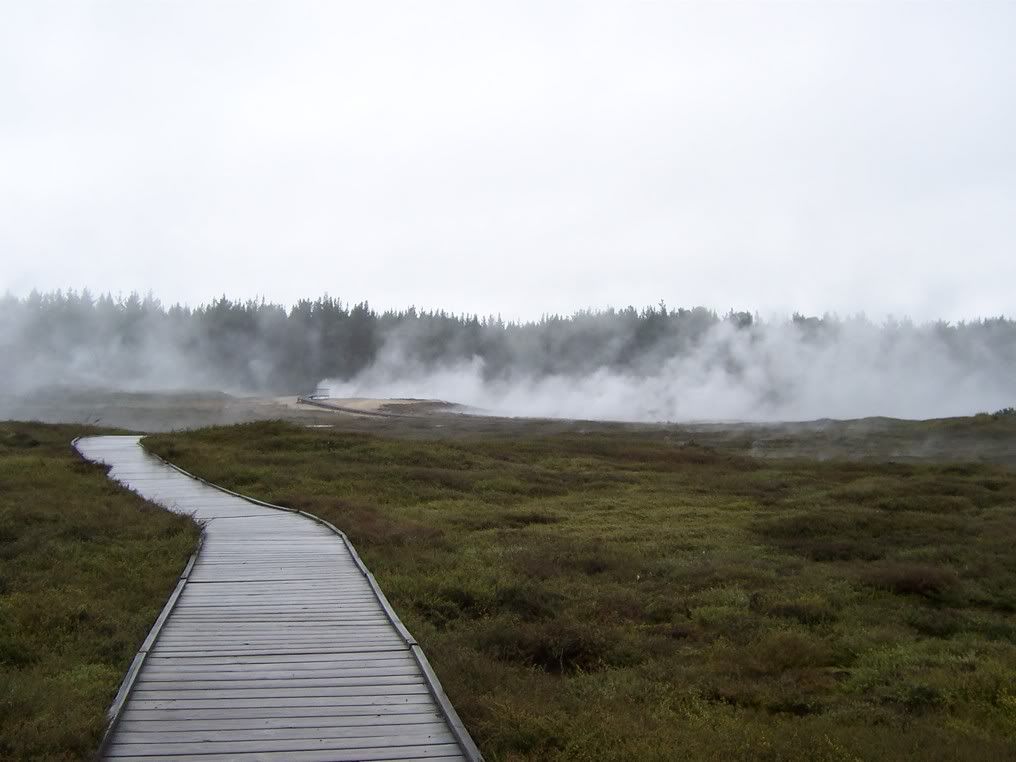 When I got up this morning the heavy rain had eased off and been replaced by thick, grey clouds. It wasn't a question of deciding to risk it, I'd come all this way North so I had to get out there. I walked up to a natural hot springs just out of the town centre, and dunked my hand in - it was the temperature of a warm bath. The River Waikato flows from Lake Taupo all the way to Auckland, making it NZ's longest. It's also one of the clearest I've ever seen - you could see the bottom up to a depth of several metres, it was amazing. I walked along the bank to the Huka Falls, a narrowing of the channel that funnels the river through in a raging torrent. Unfortunately I had to share the viewpoint with two busloads of American schoolkids, but they soon left and things quietened down.
After the Falls I walked on to find a geothermal area I'd been reading about, just as the rain started again. I got to the Craters of the Moon area and was able to walk around the boardwalks with nobody else in sight. It was really eerie, the dense coulds of steam mixing with the rain and hanging in the valley. Large holes belched steam and vapour, giving off that characteristic sulphurous smell. The rain was really annoying though, and as I was leaving it got even stronger. Thankfully on the road out I was rescued by a battered grey Ford that stopped and offered me a lift. Inside were three backpackers (always the most trusting of people) who I found out were staying at the same hostel as me. So we lurched off in the $200 car and drove back to Huka Falls for a look, and then back into Taupo and the dry hostel...