What I was missing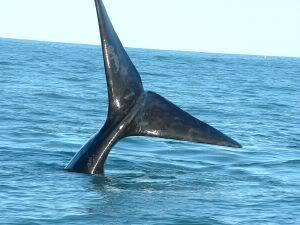 My first majorly bad news on the trip today - the whale watching trip I'd booked and was looking forward to had to be cancelled because of the weather. So I'm here anyway in Kaikoura with not much to do for an afternoon. It's a real shame as I'm the only member of my family not to have seen a whale and this was my chance - a major pod of Sperm whales live just off the coast here. But the rain and cloud came in this morning, and although a boat went out earlier (and saw loads of whales, apparently), they won't risk going back out. What a bugger. Ah well.
So my Stray trip came to an end - although Spike kindly gave me a lift up here from Christchurch this morning (and I'll jump on his bus to Picton tomorrow for the North Island ferry). I had such a great time on that bus trip - I was going to do that route on my own, but going on the bus was a much better idea. I've still got over a week left in NZ, and arrived in the coastal town of Kaikoura this morning.
'Kai'
means food and
'koura'
means lobster in the local maori - not that many backpackers get to try them. The major industry here is whale watching (but not today). It reminds me of a grey English seaside town, lots of hardy people trying to enjoy themselves despite the pouring rain. Eat the sandwiches in the car weather, that kind of thing.
Yesterday was my last day in Christchurch staying with Julie, so her boyfriend drove us out into the Waipara Valley for some wine tasting. It was a very civilised way to spend an afternoon, and although I'm no wine expert (although I do know not to put Red Bull in) I still managed to appreciate the difference between the basic types. The wine-makers we talked to were bemoaning a difficult Autumn that cut back their crop, but I presume they just put the price of the wine up. We visited five wineries and had tried a fair few by the end of the afternoon, but by that point my basic wine palate had been so overloaded it was all I could do to keep saying things like
'Hmmm, this is slightly more oaky than the last one'
...