Cowan Creek - a tributary of the Hawkesbury River, in winter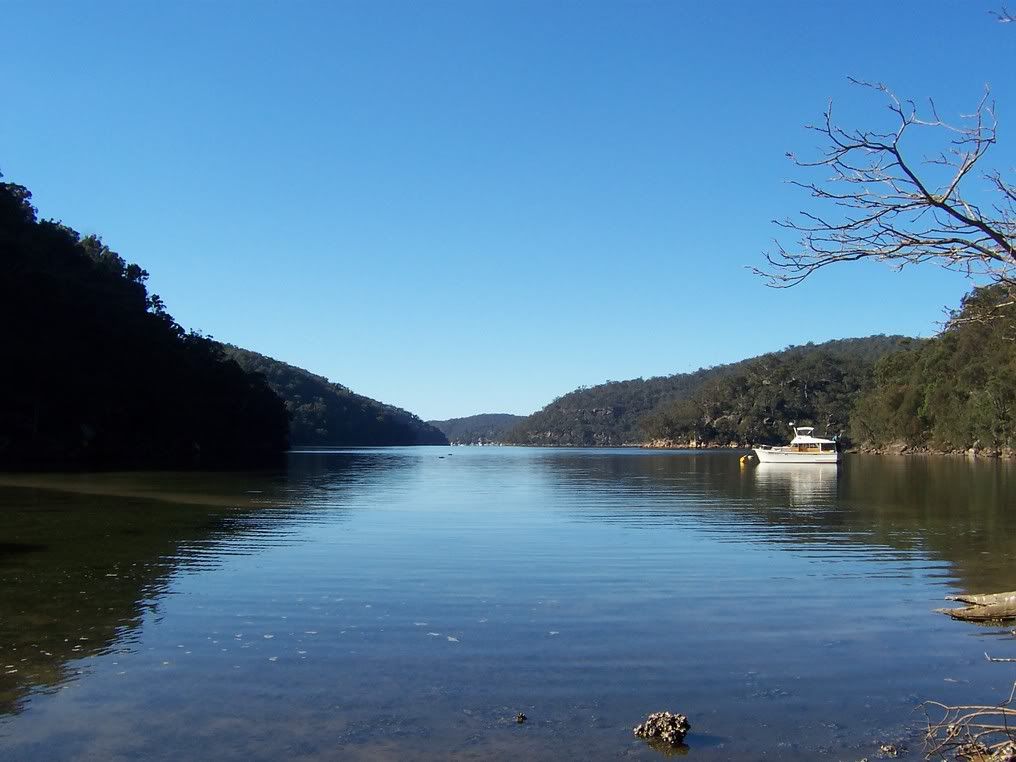 One thing that I'm always conscious of is that I've not really gone to any bush yet. Proper Australian outback stuff just isn't within public transport range of Sydney. However, there are plenty of National Parks about an hour North of the city, so today I got the train to Berowra and walked through Ku-ring-Gai National Park. The name means
'belongs to the Aboriginies'
- the Aboriginal people in SE Australia refer to themselves as
'kuri'
. The National Park runs up to the edge of the Hawkesbury River, and the path I took wandered along the shoreline of the river.
The upper parts of the trail reminded me of a Scottish pine forest, but eventually things took on a more bush-like feel. On the way down I took a shortcut to miss out a long hairpin bend in the path, and met a group of elderly walkers coming up. One of them cheerfully admonished me for doing so -
"These short cuts are for uptrackers, to make it easier for us"
he said. So that was me told. After beating him to death, I carried on and eventually popped out of the bush at Waratah Bay, named after the official flower of NSW - not that I have any idea what it looks like. Here there was an estuary-style mudflat (always something that's been close to my heart) so I stopped for something to eat. After a minute or so, the mud started to come alive and dozens of small crabs appeared and began feeding. If you know me, you'll know I love that kind of thing, and I spent an enjoyable half-hour munching Doritos whilst watching the little guys at work.
The path followed the banks of the creek, in some places it actually
was
the bank. About three hours of pushing through ferns and bushes, and I found the small singpost that pointed out the track to Kuring Gai station. The day was another cracker - blue sky all the way, but in the forest it was dark and quiet. The odd passing speedboat and twittering birds made the only noise. I talked to a family of walkers who had seen a snake, but sadly I didn't spot one. The park is also home to Koalas and something called a Powerful Owl - but again I didn't see any (maybe just as well with the Owl). Mind you, it's not every day you get to have lunch with a colony of mudcrabs, is it?