All you can glimpse of the Emporer`s Palace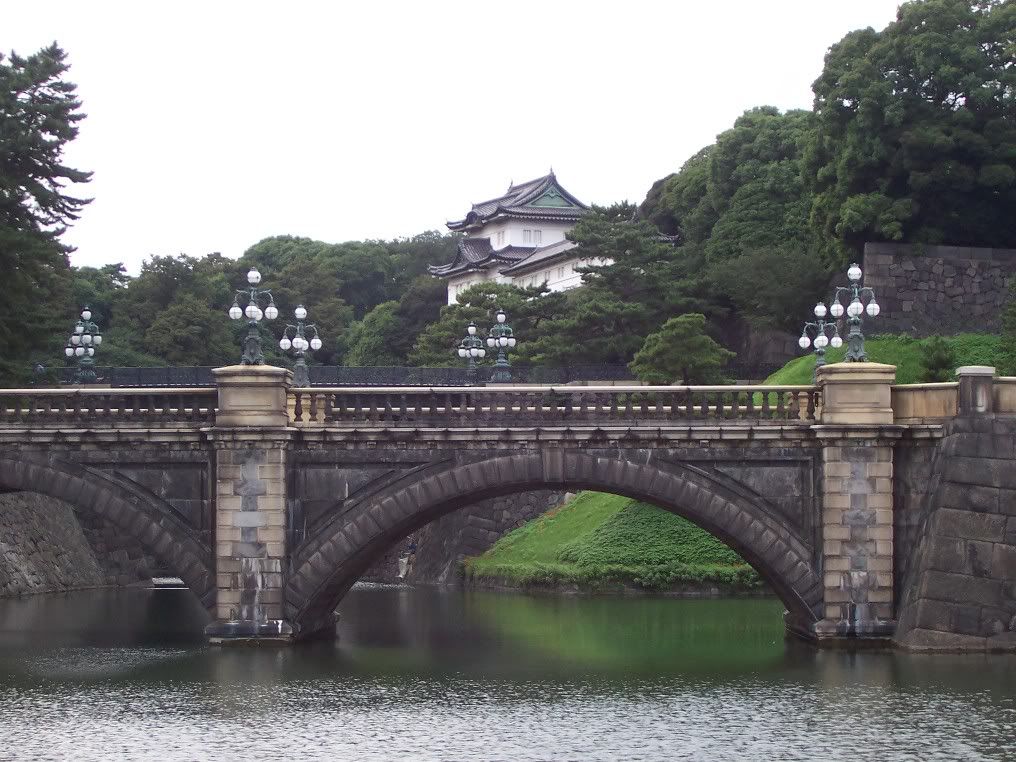 A later start today, thankfully, and a chance to sample the buffet breakfast laid on by the Shinagawa Prince. It took place in a huge dining room, with various self-service food stalls. You could choose from Western breakfast with the usual things like bacon and eggs - and spaghetti, for some reason, or two types of Asian food. We all went for the Japanese breakfast as we`ve become used to the style - miso soup, sushi, rice, small pieces of pickle and egg. It was pretty good, although the curry I tried from the Chinese stall tasted a bit odd. Maybe it was having it for breakfast.
We took Mum back to Narita airport for her flight to London, and then came back to get our bags from Shinagawa and transfer to our new hotel in Ginza. This is the older part of the city - part of the
`low city`
where the original merchants lived. Today it is full of swanky department stores - a different kind of merchant activity. Our hotel is nice enough though - no aquarium but it`s got all the right things in the room, including another eletronic toilet. I`ll have to write something about that at some point.
We took a short train ride to the Imperial Palace and had a look at the corner of one building that you can see. The Palace is only open on two days out of every year, so for the rest of the time you`re reduced to craning your neck at a distant (and probably unused) wing. The grounds are an odd mix of acres of gravel for parades, immaculately manicured lawns with clipped trees, and a four-lane road that is constantly clogged with rumbling traffic. An odd place to put a road, but I suppose it`s no worse than Buckingham Palace and the cars that run around that.
So we had our old parts of Tokyo - in the evening we took the train to Akihabara. Also known as `
Electric Town
`, it is an entire city area crammed full of electronic shops, computer games showrooms, model and curio shops, and costume shops. We wandered around for a while staring at the neon and flashing from every angle. One shop we went in was the 7-floor
Radio Hall
, which sold every kind of plastic toy imaginable. You know those large plastic spheres you see outside newsagents for kids to put in a pound coin and get a large plastic egg with a toy inside? This place had a floor of just those. To my joy, I found one that dispensed models of crabs, and stuffed in Y200 (GBP1) as fast as I could. Despite wanting the spider crab, I got a swimmer crab, but it`s still the best crab model I own. Another shop we went in -
Aso Bit City
- also had seven floors, but of different types of models. You had a floor of cars, then planes, then remote-control cars, then boats and ships, then model railways (where I lost Dad) and above that toy guns. The top floor was a shooting range, where you could try out your purchased weapon. Tokyo is one amazing city...