Plenty of blood and guts at the fish market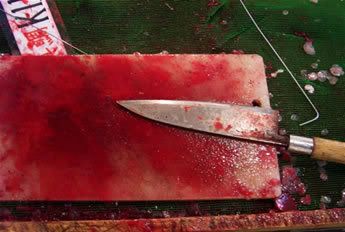 So, fishmarkets. I remember going to the indoor fish market in Preston when I was young and staring at the fillets of cod and haddock behind the glass. A few years ago I went to the Sydney fishmarket and saw the computerised auction of prawns and seafood. Today I added another fishmarket to my collection - and one that is surely impossible to top. Tsukiji fishmarket in Tokyo is simply staggering. Every day 2,500 tonnes of seafood are sold there (a bit more than bought by the old women at Preston market). The daily bill for all the fish sold comes to Y2.9billion - that's GBP15m (or US$26m for my American readers) - and they only trade for 5 hours. GBP3m per hour in marine life. Amazing.

The market is just as I imagined - maintaining the theme I was talking about yesterday. It was frantically busy and seemed completely chaotic, but was very organised at the same time. Each stallholder had a set area of floorspace, and a tiny wooden hut at the back where a person sat to take the money. We arrived at 8:30 (it opens at 5am) and already a lot of them had sold out, shut up and gone home. As for what was on sale - just about anything. From bags of 1cm-long see-through baby eels to tuna heads the size of sheep. All kinds of fish, both dead and alive, shellfish - including mussels almost at long as your forearm, crabs, octopus, squid.

Walking between the narrow lanes of stalls was a mission, with buyers and workers rushing everywhere. Motorised pallet trucks zipped all over, transporting white polystyrene boxes around. Outside a mountain of these two stories high was piled up - after all, 2,500t of fish need a lot of boxes. We wandered around trying to avoid getting in the way, and just looking at the sheer variety of things on offer. One thing I wasn`t prepared for was the blood - all over the hanger-sized building men were hacking and chopping, using lethal-looking axes, knives and hooks to dismember unfortunate creatures who were only swimming around that morning. But hey, I`m no hypocrite - we went for a sushi breakfast at the market and it was amazing.



Beatiful pagoda at Senso-ji temple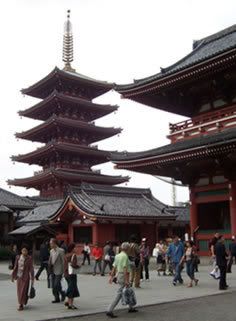 After Tsukiji we walked for a few minutes to the Hamarikyu-teien, or detached palace garden. It was here that the early shogunate hunted ducks, and so wanted a more picturesque setting whilst they were waiting for the birds to fly into their nets. The garden sits on the edge of the Sumida, and is surrounded on the other three sides by skyscrapers. From there we took a boat ride up the river to the old shopping area of Asakusa. The river cruise was interesting, but both sides of the Sumida have been channelled, dredged and built up so much it was very industrial. Still good though - interesting to see how people live so close to the water.

Asakusa has been a centre of entertainment, religion and shopping since the 13th Century, and is one of the parts of old Edo (Tokyo in the time of the Shoguns). We walked around and looked in the millions of small touristy shops on Nakamise-dori before the giant Senso-ji temple. Another Buddhist temple, this one is for Kannon - the Goddess of Mercy, and was founded in 628 after two fishermen pulled a statue of her out of the Sumida. A temple has stood there ever since. It was interesting to watch people praying - unlike yesterday`s remote temples Senso-ji is bustling and active. You could pay Y100 and take a paper fortune from a drawer - they can be either good or bad. Mine was a 'Regular Fortune' - apparently 'talk with tongue entangled by your getting drunk gives no unpleasant impression to others'. That's always good to know. My Mum had two attempts and my Dad one - all three were 'Bad Fortunes' of marriage and financial strife ahead. Fortunately if you tied the piece of paper your fortune was written on to a nearby wire rack, it negated it and you were back to square one - with nothing bad hanging over you. Handy that...