This is the crazy travelling week, that signifies the end of my twelve months away from the UK. Today was my last day in Tokyo - tomorrow I fly to Sydney, where I've got roughly 24hrs before I fly to Seoul, South Korea. After 18hrs there I fly to London the next day. So that's four cities in four days, on three continents, including Asia twice. I've no idea how many thousands of miles that is - if I was planting trees to offset my carbon emissions this week I'd be reforesting half of Amazonia. When you think that the first people that came to Australia from the UK took years of bouncing around on wooden ships, my upcoming travels seem incredible - in the next four days I'll be covering the same distance those Elizabethan mariners covered over the course of their careers, if they were lucky enough to get to the end. I've just got to sit in a seat and read the paper. Still, that's progress.
Fuji TV headquarters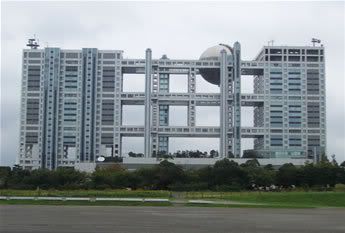 My last day in Japan was another wet one. We were reasonably lucky with the weather - we had three wet days out of 15, so it's not too bad. Unfortunately we only had one day of sun - all the others were overcast, grey and humid. But there's not much you can do about the weather. After visiting a Japanese internet cafe - with individuals cubicles containing a fast PC, reclining seat, footstool, slippers, safe, TV, and PlayStation 2 - we took the Toei Oedo line subway to Shiodome. Again, it looked like the entire line was brand new, at least either that or they keep it utterly spotless. At Shiodome we transferred onto the Yurikamome monorail (another rail-based transport system we used on this trip) to Odaiba Island. Odaiba is all built on land reclaimed from the Tokyo Bay estuary, and is home to dozens of massive, astonishing buildings, like the HQ of the FujiTV empire pictured above.


Geo-Cosmos at the Miraikan, Odaiba Island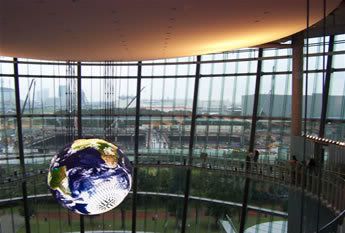 We got off and visited the Museum of Emerging Science and Innovation - Miraikan. It's a hands-on science museum with displays on the human body, space, biology and chemistry. The undoubted highlight is Geo-Cosmos, the world's first spherical LED display unit. Essentially it's the equivalent of a wall of TV's, but very small TV's, and arranged in a sphere. It displays the Earth from space, other planets, and global weather systems. You look at it by lying down, and staring up at the changing colours. As we watched, the scientist clicked a button and the global weather patterns for a couple of weeks ago appeared, and we all watched Hurricane Katrina roll into the Gulf States of the US. He then went on to display rising sea and land temperatures - it was incredible.

Otorii of Miyajima, at night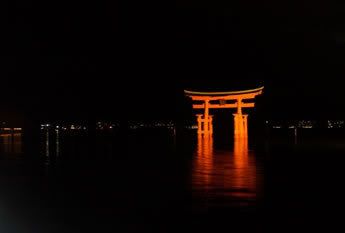 After that we zipped back to Shinjuku where I picked up my bags and dashed for the Narita Express (the same way we started the holiday), saying goodbye to my father as I went. He's got an extra day on his own in Tokyo before flying back to the UK. Thanks so much for letting me show you Japan Dad - I loved every minute of it. I sat on the Narita express watching the neon-lit suburbs flow past the window with a huge smile on my face. Japan is an amazing country - expensive, but down to earth - fast, but traditional - anonymous but friendly. I could go on, but I'll leave it there. It's a stunning country of contrasts, and anybody lucky enough to get the chance to go should get there and give it everything they've got - it won't disappoint.