Disco Fever...highly contagious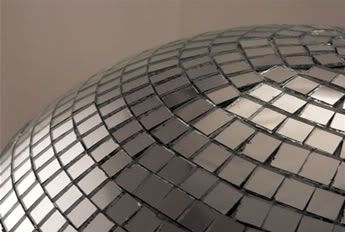 Apologies about the lack of posts for the past week - the Christmas rush was combined with mysterious computer failure here, presenting difficulties with getting the blog updated. But, here we are, back to normal. As I promised on my last post this one is about the joys of the office Christmas party. As this time last year I wasn't yet working in Sydney (which thankfully seems to have calmed down recently, violence-wise), I didn't have an office party or staff night out or anything in 2004. This year, back in gainful employment I was determined to catch up on what I missed out on. Apparently what I missed out on was a party held at the local Masonic Lodge - for cost reasons I'm assured, although with our connections to the medical and political communities I bet there was more to it than that. The result, so I'm told, was a good night out - although I would have been more pre-occupied with finding hidden doors and paintings with holes for eyes and suchlike. TV has given me a pretty good understanding of what goes on at Masonic Lodges, I think you'll agree.
But it was not to be, as we were at a backroom of a large music venue/five-a-side football complex in the SE of Edinburgh. I won't name it - but let's just say you might go there to
swap maize
. We turned up at 7pm, fighting a bitter wind that was piling down from the Pentlands, and were promptly ushered out of a large ballroom with Champagne-toting waiters to a cramped disco round the back, with trays of sausage rolls. Ahh, the public sector. Having found the correct party, it turned into a pretty good night. I was expecting an unexciting wedding-like roomful of people sat at tables, slowly drinking - but give us credit - as soon as the music started everyone crammed onto the bathroom-sized dancefloor and went for it. I will freely admit to being the world's worst dancer - but even I was caught up in the heady atmosphere enough to put down some moves. Or it might have been the lager.
Actually I was still dancing when our pre-ordered taxi came at the end of the night. As usual, there were the serial dancers, who were camped in a small section of the wooden dancefloor all night. There were also the selective types who would rush on when they heard the first few beats of
Dancing Queen
, or something similar. The highlight of my night was watching what happened when the DJ played
Summer of '69
by Bryan Adams, and to a man all the 40yr olds from the IT Department got up, creating a Buncefield-like haze of aftershave over the dancefloor. Aside from similar musical abbherations, the usual Christmassey music was on offer - including the songs where you have to do a special dance, like the bile-inducing
Saturday Night
by Whigfield. If this means nothing to you (Dad; Mum), then you are very, very lucky. YMCA was played too, of course, along with a few - yes - line dancing numbers I watched with fascination/terror. I'll say this - you put on a record that involves an organised, timed dance in a roomful of drunken statisticians - you'll witness a thing of beauty.
There was a raffle - the highlight of which being when the social club president (a rather portly woman) won a chocolate fondue set - and a semi-edible buffet. Despite there being about 150 people there, mostly we sat at large round tables, school disco-like, in our office sections. Ours had a drinks kitty, which we made full use of. To make life easier for the barstaff, not to mention ourselves, we wrote down each person's drink on a list and just presented it at the bar each time (statisticians, eh?). We had the ubiquitous Christmas crackers - I won what can only be described as a plastic moustache comb - and near the end of the night I realised that I was the last person in the room that was still wearing the paper hat. Festive to the last...