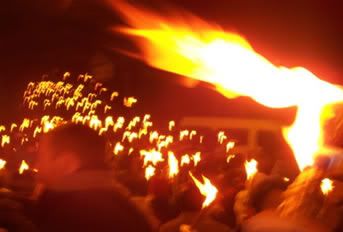 Every Christmas the city of Edinburgh hosts a parade through the centre, lit by thousands of torches. It's open to anybody who wants to walk - on payment of a £5 donation to charity you get a large candle, and then walk from the Royal Mile to Calton Hill for a fireworks display and large bonfire. This is the queue up the back road of Calton Hill, just as my mate Paul's torch got caught by a gust of wind and flamed spectacularly.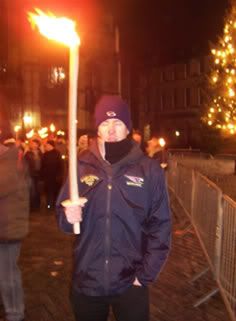 Your author braving the sub-zero temperatures to participate, hence the closed eyes. It might look like I'm wielding a flaming sword, but it was actually a canvas tube dipped in wax, with a wooden hilt you held onto. The cardboard coaster was to catch drips, but we all got covered anyway. My friend Michelle actually saw someone whose cardboard protector had caught fire. Time to drop the torch and run, I would have thought.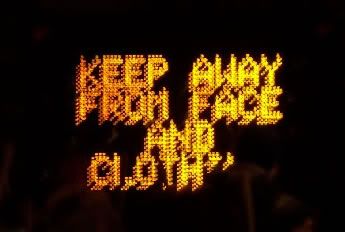 "
Keep what away from my face? This large firey torch I'm holding? No - they can't mean that...it must be about something else. Ow! My face! And my cloth!
"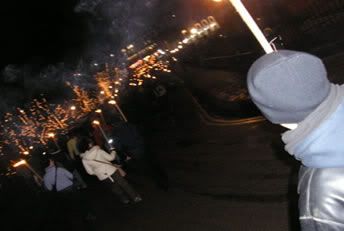 Moving off from Bank Street down the Mound, with the trees of Princes Street Gardens lit up in the distance. This might look like me, but it's actually someone else - I'm in front on the right talking to my friend Mel from New Zealand.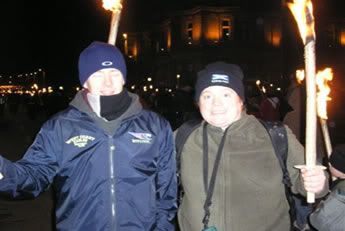 This definately is me - because I've got my eyes closed again. I do this a lot when someone takes my photo. I never know when to stare, when to look normal, and when I can blink. So I just tend to do all three at once and end up looking like I've lapsed into a coma. Paul, as you can see, could out-grin Cherie Blair.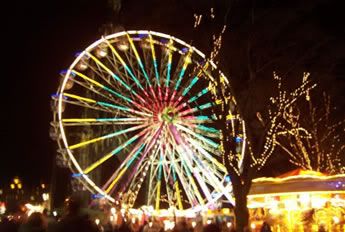 The rickety ferris wheel and carousel on Princes Street.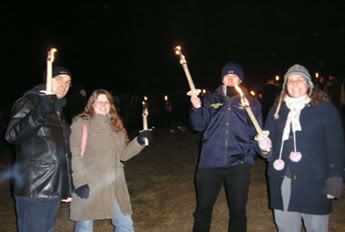 The procession ends at the top of Calton Hill, where there was a fireworks display. Sadly we missed most of it as we were at the back caught up in the logjam of people in picture 1, but we got up there anyway and made the most of it. The icy wind was whipping across the hill, playing havoc with our dwindling torches. L to R - Richard, Laura, me (with eyes open - I obviously guessed right), Michelle.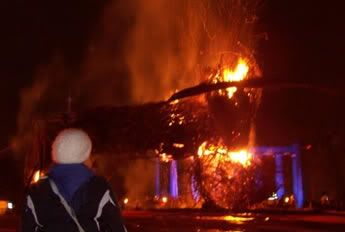 This was one of the big showpieces at the top of Calton Hill, a large whicker bull that was roaring away merrily when we arrived. The smoke rising to the right is from a huge bonfire that people were enlarging by hurling their torches at. After warming ourselves at the fire for a while, we went off to the pub for a few cold pints...