Where's the dragon?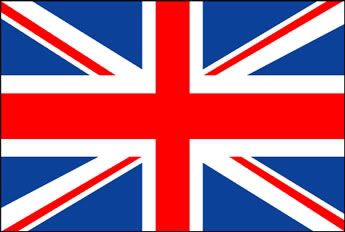 The study of flags.
When I was younger, I was a committed vexillophile. Before the
News of the World
send a hit-squad round to get me, I should say that it means 'someone who loves flags'. Why did I? I can't really remember - probably the mixture of exotic-sounding foreign names, far-away places and bright colours. I remember a 'Flags of the World' poster I had, which I knew so well I can still describe almost any flag at random. Of course, this is utterly un-useful - apart from during an old episode of
The Amazing Race
on the TV where the contestants were in the Philippines and had to land their small boat on whichever island had the national flag on it. Before we'd seen any of the options, I turned to my flatmate and said 'White triangle with star, upper blue band, lower red band', causing him to inch his chair away from me slightly.
If you like colourful rectangles, you should pay a visit to
Nationmaster.com
, which has over 49,000 flags, of every country in the world and then some. From the Cypriot Police Force to the Scout Association of Kazakhstan, if it has a flag, you'll find a picture of it there. Want to know the flag of the Bulgarian Ministry of the Interior in 1955? No, thought not. Still, if you did, it's on Nationmaster. Here are some of my favourites...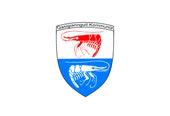 Qasigiannguit, Greenland.
Not enough global flags feature prawns, in my opinion.
Here
is the website of Qasigiannguit, which is written in the local language that has some of the longest words I've ever seen. Want to have a stab at pronouncing
oqaluttuarisaaneranut
? The flag represents the prawns that are the life-blood of the town, in their cooked and raw state. The 'friendly' town is situated in the improbably-named
Disco Bay
.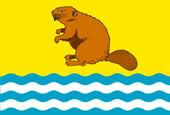 Municipality of Bievre, Namur, Belgium.
Bievre...Beaver. I get it. Not sure why it's by the seaside - but it looks mightily annoyed. Must have lost his frisbee, or something. Bievre is twinned with Desborough, Northamptonshire.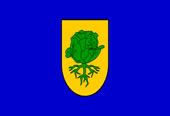 Vidovec, Varazdin, Croatia.
I don't know what Vidovec means, but it probably doesn't smell that nice there.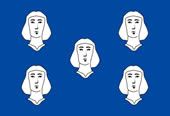 Municipality of Ciney, Namur, Belgium.
I presume this design is an old heraldic motif of squires or pages or something, but it just reminds me of a prog-rock video.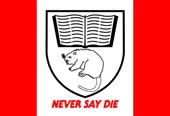 Aklavik, NW Territories, Canada.
This one's tremendous - it features a book, a rat, and the motto 'Never Say Die'. After a bit of crafty Googling, I learned all about the 'Mad Trapper of Rat River' - presumably he of the 'Never Say Die' attitude, as it took seventeen men and a strafing from a fighter plane to bring him down. They obviously breed them tough up in
Aklavik
.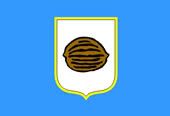 Orehovica, Medjimurje, Croatia.
I wonder if the walnut-people of Orehovica live near the Cabbages of Vidovec?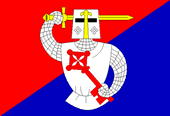 Nezdenice, Czech Republic.
Many European flags have heraldic backgrounds. This one is by far the best. It seems to be based on the limbless Black Knight from
Monty Python
, stabbing himself through the head with his sword. Watch out for that menacing-looking giant key though.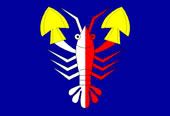 Rakuvka, Czech Republic.
A lobster juggling mushrooms - something you don't see every day...
<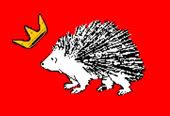 Coudekerque-Branche Municipality, France.
I know the French like to play
boules
(or they do on TV programmes I've seen), so this 'throw the crown on the hedgehog' could be a local variation. Maybe you win a goldfish if you manage it.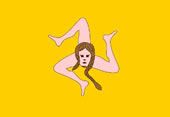 Sicily, Italy.
'When Yoga goes bad'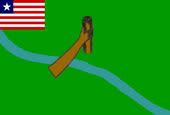 Lofa County, Liberia.
Absolutely no idea - it seems to be an arm planting a sausage aross a river. Symbolic?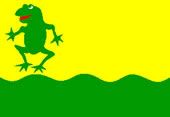 Hijum, Netherlands.
'So what shall we put on the flag guys?'
'How about a dancing frog?'
'Why not?'
Thanks to
Flags of the World
for descriptions and pictures.