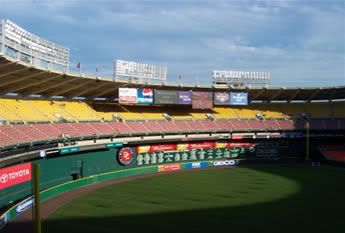 After trying and failing to get tickets for the Red Sox game on my birthday, I was determined to get to a baseball game when I travelled down to DC. The Washington Nationals play at RFK Stadium - one of the great old American sports arenas. I went there pretty much as soon as I arrived in the city, in case they sold out too - but the look of surprise on the ticket woman's face I understood when I turned up to the game. The Tuesday night match against the Florida Marlins obviously isn't a big draw. I asked a steward if the Nationals were any good. "Oh no," he said. "Not at all."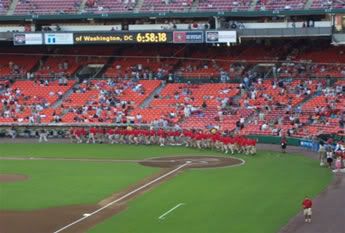 I had a tremendous seat - tickets to baseball games are really cheap, I suppose because they play so often. So I spent about the same as a Premiership ticket would cost at the Rovers, and ended up with a brilliant view. An elderly African American man even showed me to my seat and wiped it down with a towel for me. Unfortunately I forgot to tip him, and felt bad about it for ages. Anyway, on the field this is the DC Area Gay Men's Chorus, who sang the National Anthem. They got the biggest cheer of the night.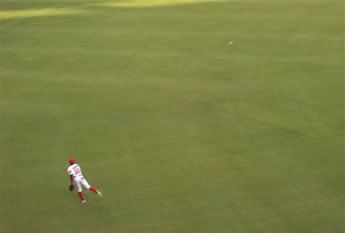 From what I could gather, the Nationals have one star player, the Dominican
Alfonso Soriano
. Here he casually tosses a ball about forty yards with a perfectly flat trajectory. The sparse crowd cheered every time he touched the ball, and young kids queued up at the side of the grass to hopefully get his autograph. He ignored most of them as he was too far away, but every time he caught a ball he jogged over and flipped it into the crowd, causing pandemonium as people scrambled to try and catch it.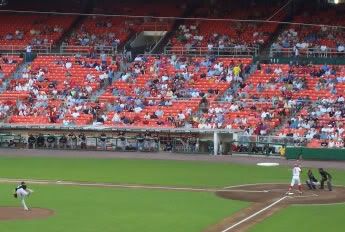 The first pitch of the game, and Soriano (who opens the batting for Washington) is hit in the small of the back by the Marlins pitcher Ricky Nolasco (you can just see the ball striking the batter as he turns away from it). That means the aggrieved player gets a free walk to first base. I kind of know the basics of baseball, so I more or less knew what was going on, although some of the more complex stuff went above my head. But I was sitting there on a pleasantly warm August night with a few beers, so it was all good.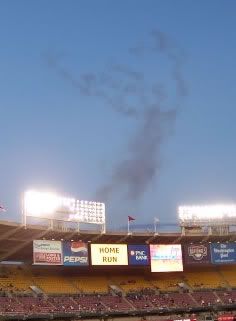 Smoke drifts across the stadium after Washington's Nick Johnson hit a Home Run to pull the Nationals back to 3-2 down. A crowd of just under 25,000 sat through what the home coach later called an 'awful' game - but I enjoyed it. Washington made several bad mistakes, throwing balls over each other's heads, that kind of thing. In fact, it got so bad it was quite amusing (I've sat through many a Blackburn game like that over the years). At one point someone in my row stood up and bellowed "
YOU SUCK
!!!" at the home players, who eventually wound up losing 4-2. As of today they are W61-L82, on a four game losing streak, and still sucking, it would seem.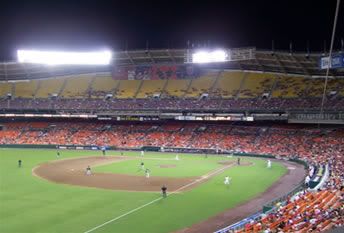 So all in all, it was a good night out. It wasn't my first baseball game, as I seem to remember attending a match between Scotland and Ireland in Edinburgh a few years ago. This was slightly different of course, and the poor game didn't take anything away from taking part in a very typical American ritual. I got myself a tshirt, had some beers, and managed to follow what was going on - I'm not sure I'd go back to the Nationals, but if anyone wants to buy me some Red Sox tickets, I wouldn't say no... ;)