I'm at the back...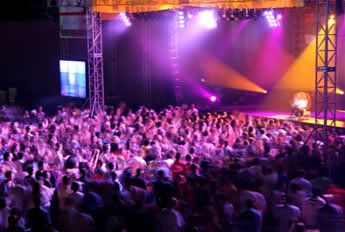 In the summer of 1993 I attended my first music festival, more or less by accident, the now defunct (as far as I know) Preston Festival. Not up there with Woodstock or Glastonbury maybe, but if you found yourself in West Lancashire in that particular year and had a growing passion for music and lager it was a decent day out. I mention this here because yesterday I attended my second music festival, the almost as unknown Spectrum Festival in Edinburgh. Now bona-fide musos out there must be tutting and reaching for their first-edition vinyl collection on reading that - a 13yr gap in between attending a festival, the life blood of live and new music, from someone who claims to like music. I bet he even paid to get in and all, and didn't pay a Scouser to saw a hole in the perimeter fence (as a certain relation of mine does - and it's not my Gran).
To make matters worse, Spectrum is an
indoor
festival, in the middle of the city, on a Sunday afternoon. Hosted by the
Queen's Hall
venue on South Clerk Street, a flying visit by a couple (literally) of extremely talented musicians I know gave me the excuse I needed to get out from in front of Michael Schumacher's last grand prix and into the Autumn sunshine, although only for as long as it took us to walk over to the Southside of the city and into the converted church venue. The main stage still had the old enclosed pews arranged in a semi-circle under a large balcony, but we were there for the more tuneful acts appearing in the 'acoustic attic' upstairs, behind the bar on the right.
It was all very different 13yrs ago. The Preston weekender took place in
Avenham Park
by the River Ribble, in a large grass bowl ideal for crowds, next to an ornate
Japanese garden
ideal for sneaking a few underage beers (maybe that's where my interest in all things Japanese originates from). As I remember, it was the day before my Chemistry A-Level exam, so I took a break from covalent bonds and suchlike to stand by the river and listen to some music. Anyhow, soundwaves travelling through the air is chemistry, isn't it? (Or physics, one of the numbery sciences at least).
Headlining - and award yourself several 'muso' points if these names ring a bell - were the
Sultans of Ping FC
, and the
Boo Radleys
, one-hit wonders apiece (Where's me Jumper, and Wake up Boo! respectively). Not that it really mattered to us, of course. I remember standing at the back of the tent when the former act were playing their knitwear-based anthem and wondering what the hell had happened to music, if this was as good as it got. The singer was leaping about shrieking, in only a pair of silver skintight trousers, avoiding various bottles and cans hurled at him. My friends had vanished, but re-appeared later saying they'd managed to meet some bloke in a support act who invited them backstage for a beer. At this point I'd had way too much, so went home (after eating a Trebor extra strong mint so my parents wouldn't suspect I'd been drinking all day) to try and revise for the exam.
Fast forward to the Spectrum festival and we're suddenly all frighteningly thirtysomething and wondering where the time has gone. But at least it involved some better music along the way than that day by the Ribble. Now we have iPods, MySpace, the internet, filesharing, and Girls Aloud. We each paid our £5, had a red monkey stamped on the back of the hand, and wandered upstairs with a pint of Kirin Japanese lager (oddly fitting, given the circumstances). My exceedingly good friends Andy and Grant were involved in the acoustic extravaganza that followed, and were as crisp and melodic as ever, as was Andy's girlfriend Jess - who performed her hauntingly unique folk melodies quite beautifully (there's a quote for your Italian tour CD Jess). Seeing as Grant is emigrating to Canada via Uganda tomorrow, it was to be the last time all of that was to happen, so I was really glad I managed to see it. I wonder what the pick of the festivals will be in 2019?
Just a final point, in case you were wondering. I managed to pass the Chemistry exam the next day, but all my friends who stayed on at the festival failed (there's a moral in there somewhere). I later found out that the bloke they got talking to was Noel Gallacher, and the obscure support act they ended up drinking with turned out to be Oasis, playing one of their last gigs as an unsigned act before they joined Creation Records and became megastars. Of course, my friends could have made that up, jealous that only I knew what the difference was between an aliphatic and alicyclic hydrocarbon. Or at least, I did then.
Andy Raeburn
Jess Bryant
Spectrum Festival