We've all been there...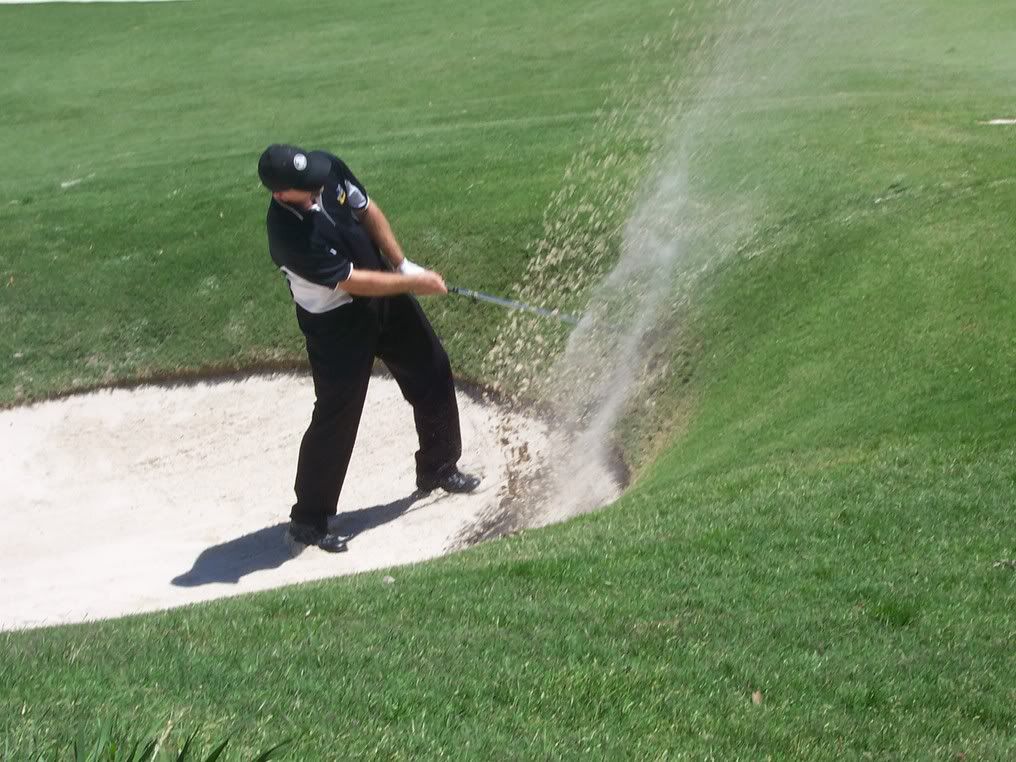 Last Thursday I spent the day watching the opening round of the Australian Open Golf championship, which by a co-incidence was being held at a golf course just south of Paddington. As it was so close, and of course I had no other plans (the cancer institute has yet to get back to me), I went along. I've never been to a golf tournament before, so I wasn't sure what to do. Do you stand in a place and watch them all come past? Or do you pick a group and walk round with them? I decided if I did the former, all I'd see would be different golfers playing the same shot time after time - so I picked a group at random and followed them round.

They weren't very good - I should say here that the Australian Open isn't like the US Open or The Open. The most famous golfer playing was Peter Lonard, who's scarcely a household name. But it was great fun - apart from the first hole. After watching them tee off (and it's truly amazing how far they hit the ball with those drivers), I went half-way down the first fairway and stood just off the grass in the trees watching the second group tee off. The first player hit his drive, and I could see it coming towards me - but didn't think it would get near me. As it turned out it landed in the rough about ten feet in front of me. I thought that was as close as it would get - but the second player managed to hit the tree I was standing next to (about twenty feet up) and clatter behind me. I chose somewhere else to stand.

It was a good day out though - very hot. You think golf is just walking around taking the occasional swipe - but doing that for four hours in the sun must be exhausting. I was certainly knackered by the time they finished. The weather is starting to get hotter again now - it was 34C today. When it gets like that, any amount of wind seems to make it worse. If you're walking down a street, for example, and come to the edge of a large building - you turn the corner and the wind hits you like when you open an oven door. Today I was stuck on an underground train for ten minutes with no air conditioning, and it was like a sauna. Odd to think that back home it's probably dull, grey and wet. Not that I'm complaining...