Anzac Parade with the new Parliament building in the distance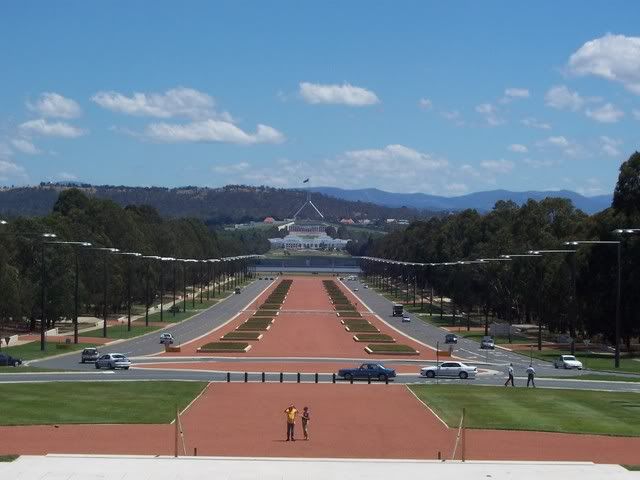 Another hard day slogging along the roads of Canberra today, I must have walked miles. I started off at the Old Parliament House, which was built in 1927 and lasted until 1988, when the Australian MP's decided they would be better off in a swanky new parliament building on another site (where have I heard that before?). It was an interesting old building, although I know almost nothing about Australian politics (apart from Harold Holt vanishing at sea). It has all been opened up, and you can get inside the Prime Minister's Office and the Cabinet rooms.

After that I walked up the considerable slope to the New Australian Parliament, which cost a whopping $1.1bn - these Parliaments are expensive affairs. Another guided tour but with less to see - the current debating chambers were open, but as this is the summer recess there was nothing going on. It was still quite interesting though.

In the afternoon I went to see another couple of places, but before that had become completely disorientated by the identical-nature of Canberra's street pattern. I had wanted to find somewhere to get lunch, but after walking for ages in a promising area I found only the Sri Lankan consulate. Eventually I did find a row of cafes and food shops - and they were crammed with people. So that's where everyone had been hiding!

One quick thing - I've now been in about six tourist attractions, museums and so on - and in only one was there an entrance fee. The vast majority of the things to see here are free. The exception was the Old Parliament House, which cost a decidedly reasonable 81p to enter.