Forty Baskets Beach - so called as that was considered a good days fishing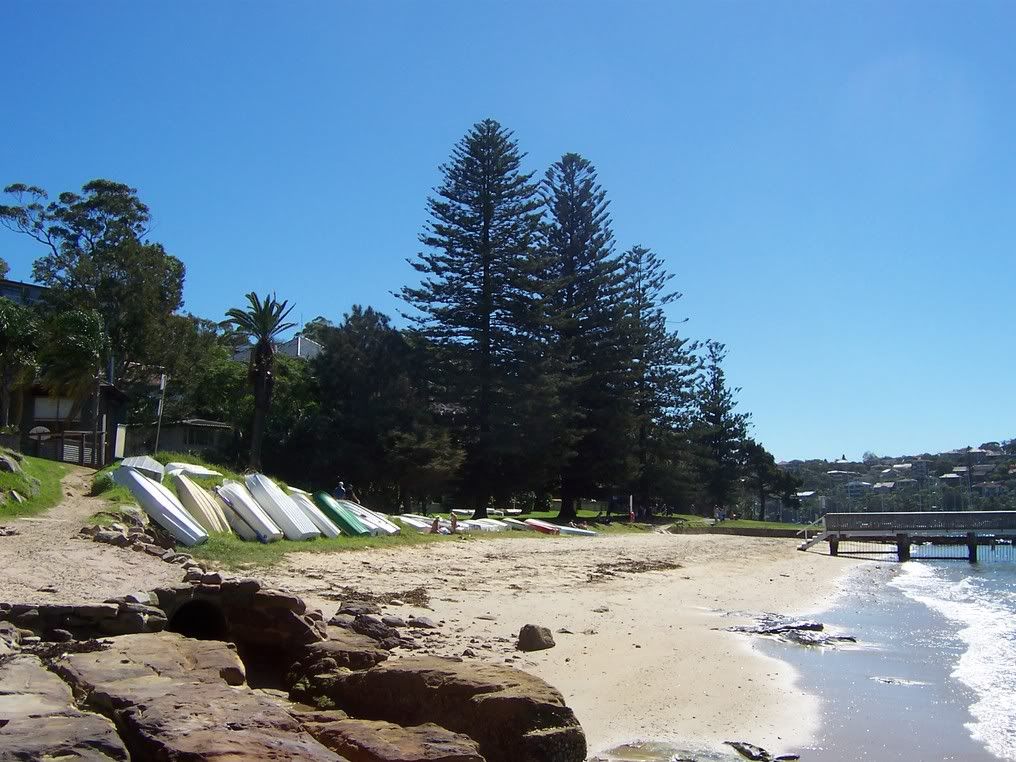 Open a Sydney guidebook and look at a section on harbour walks, and the one most recommended would be the 10km path from Manly to the Spit Bridge. This was the walk I did on Sunday, in dazzling Autmun sunshine. The first parts of the walk are along wide paths, in front of expensive property at Fairlight and Balgowlah. But then you are abruptly thrown into native bushland, protected by an army of volunteers (according to numerous signs - although I didn't see anybody). The trail slowly winds upwards onto the headland, with literally hundreds of spiderwebs billowing in the gum trees on either side of the path. Large, fat orb-web spiders sitting in a star-shape waiting for something to happen.

At the midway point, the path finally exits the scrub and you get great views back to Manly with the thin peninsula of hotels and pine trees, before the downhill section starts and it's back into the canopy and the spiders. There are a number of beaches en route - such as Forty Baskets where the path goes over the rocky shore and is impassable at high tide. The other end of the walk has great beaches at Castle Rock, and on to Clontarf. It was here that a gunman shot the then Duke of Edinburgh in the late 19th Century, but apparently the bullet struck his thick rubber braces and he survived.

Clontarf is named after a suburb of Dublin, but no part of Dublin I saw looked remotely similar. The beach and reserve here were packed with families picnicking on the sunny afternoon - the better off lunching aboard countless yachts and motorboats bobbing around just off the beach. The trail continued around the muddy bay and up again into the trees, climbing upwards to the final destination - the Spit Bridge. Derided in Sydney as a traffic clogger (it opens every hour to let boats out and backs up cars in both directions), it's an old iron swing bridge, and more importantly serves as a stop for buses back to the city.