The Stray Bus group, with dictionary pride of place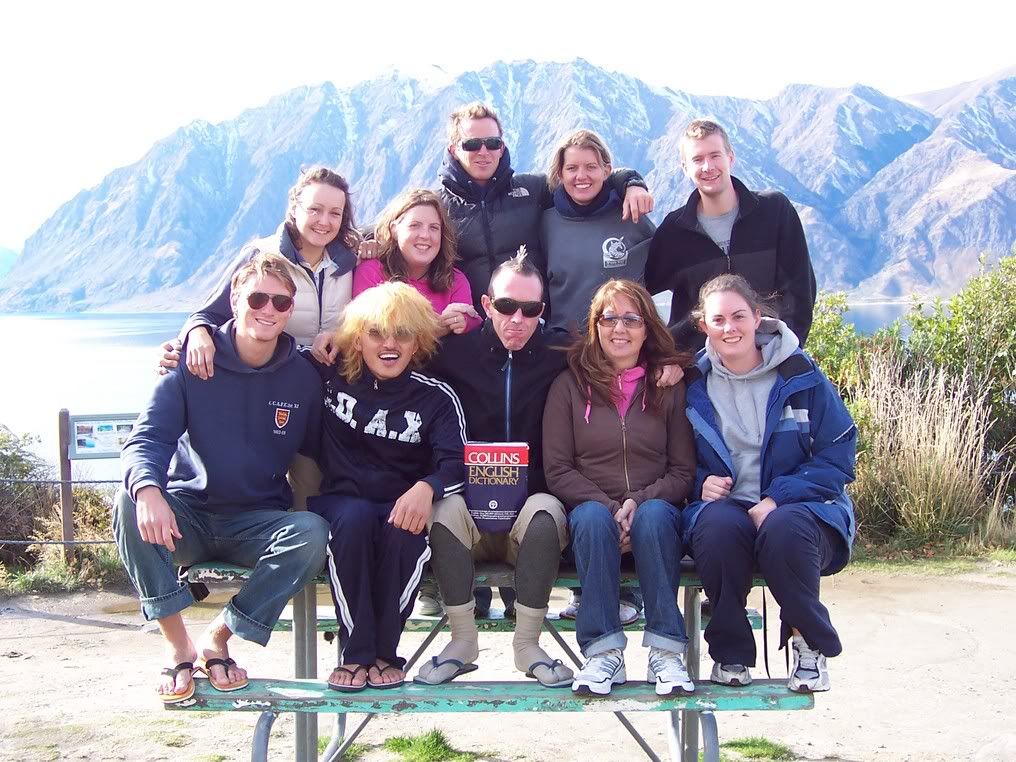 Not surprisingly I slept very well indeed after my ice-walking antics of the day before. We were on the road again quickly, in what turned out to be a transit day between destinations. On the way we stopped at Makaroa for breakfast and had a close encounter with a deer. About as close an encounter as you can get - at one point the deer walked into the cafe and up to our table before the staff came out of the kitchen and herded it out of a fire exit.
The bus also stopped for photos at Lake Hawea, and a bemused Danish tourist was ambushed and coerced into taking group shots. The tour is run by the driver Spike (above, with dictionary) and his friend Mike (centre of top row), who runs a kayaking business up in Coromandel. He's along on a free junket in the guise of training, and together the two of them are pretty funny. As this is Mike's first Stray Tour around the South Island, Spike bought him the dictionary and everybody they meet is asked to pick a favourite word, and then sign it*. The dictionary (particularly the cover) is now seriously battered, as it goes on all their nights out, and all the activities - including bungy jumping and up the glacier.
However, as this is an off-on tour, about an hour after that picture was taken half the people got off the bus at Wanaka. But we were filled up again, and had nine on board when we rolled into the adventure capital of the world, Queenstown.
* My word was, of course,
squalor
. Despite meaning dirty and filthy it's the closest thing to my nickname until I merit inclusion in the dictionary myself...