The art-deco ANZAC Memorial glistens in the sunshine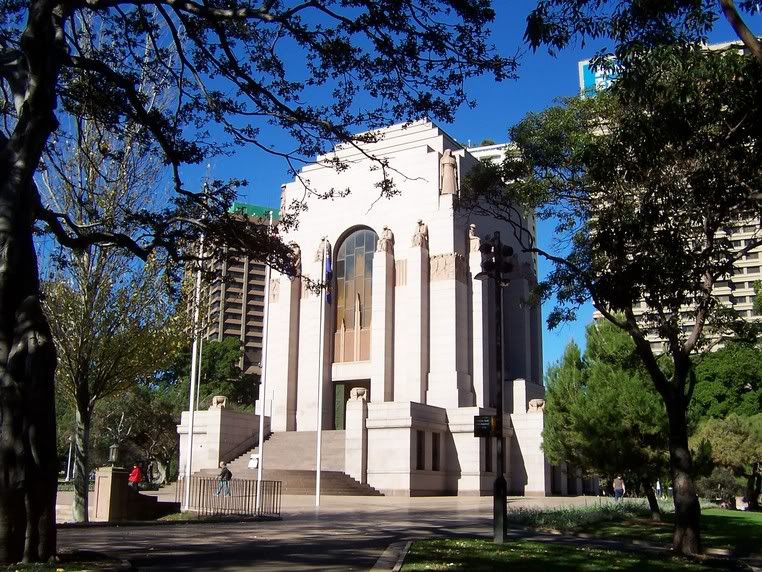 I read somewhere once that parks are considered to be the lungs of a city. If that's true, then central Sydney's lungs would undoubtedly be Hyde Park, the long rectangular green space that flanks the business district (which would be the brain, I guess). Named after the more famous park in London, the Sydney version quickly became the focal point of the fledgling colony back from it's formation in the late 18th Century. There's no real comparison to London's Hyde Park though - it's far smaller, there's no zoo (although it does have a corner). Back in the old days of settlement it was used as a mustering ground for soldiers from the adjacent barracks - but it has also been used as a cricket pitch, an arena for prize fights, and was the first racecourse in the city - which explains the roughly oval/rectangular shape (or ovtangular as I like to call it).
These days it's used mostly as a place to have lunch, an open-air theatre for drunks or a place to sleep for backpackers if they can't find their way to Kings Cross (for which you can decide your own body part analogy). Divided into two parts by Park Street, much of the greenery is dominated by two rows of huge Fig trees, which to my untrained eyes resemble giant florets of broccoli. In the Northern half is the splendidly OTT Archibald Fountain, completed in 1932 and featuring a typical scene from some legend or other, complete with stags, naked men, and turtles that continually vomit streams of water. If you follow the fig-dominated path to the other half (looking both ways as you cross Park Street, of course), you arrive at the other major feature, the art deco ANZAC Memorial, also built in the 1930's and dedicated to the 120,000 ANZACS who fought in the Great War.
There are other things of interest in Hyde Park too - like a manicured garden and veranda, and statues of Prince Albert and Captain Cook. But the real fun is to be had walking around looking at the people and animals that live or pass through the park - every Friday for instance, numerous Asian wedding parties gather to get photographed with the picturesque backdrop - one evening I counted five groups (and managed to get in a few pictures without even trying). On another walk home I saw bats, cockroaches and rats scampering about. There are large black and white storks that use their foot-long bills to reach into litter bins and remove sandwich wrappers, and possums that occasionally trot from tree to tree looking like grey cats with shrunken heads (trust me on this).