The pre-dinner photo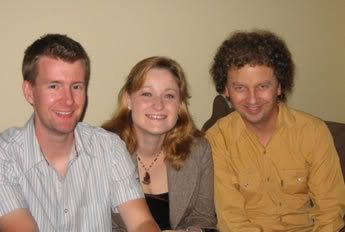 Well, these are now the last days for me in Australia - tomorrow I'm off to Tokyo. I spent most of the day today sorting out my stuff - which to be honest didn't take all that long. I made a conscious decision not to acquire the usual amount of crap that I tend to do when I'm living somewhere, as I knew I'd have to either throw it away or somehow carry it all home. In the end I had to buy a small suitcase-type thing to take care of the overspill from what I'm taking to Japan. It only cost $18 (GBP7) though, so no great expense. Even so, it took me a few hours to organise what I am going to need over the next couple of weeks and what I'm not. Oh - and in the afternoon I watched the AFL Grand Final and cheered the mighty Swans on to their first Premiership for 72yrs. Go the Swans.

Tonight I went out for dinner in Surry Hills with my flatmates (see picture above taken beforehand), to a very fancy Thai restaurant. The prices were similar to the French place we went to a few weeks ago but the portions were about twenty times the size. I ate so much that when we went for a drink at a nearby pub I could hardly finish it. Unlike me, I know. Anyway, so that's it for my stint living in Sydney. Tomorrow it's off for two weeks in Japan - which I can't wait for. I've been planning this for so long that when our plane rolls up to the terminal in Narita I'll be hopping about like a 3yr old at Christmas. Expect lots of photos and a fair bit of blogging. Oh yes. After the two weeks there, I'll be back in Sydney for 24hrs (the 11th October if you're taking notes) and then from there it's a flight to Seoul and another overnight stop on the way back to London. Bring it on! See you in Tokyo...