Taking photos at Shell Beach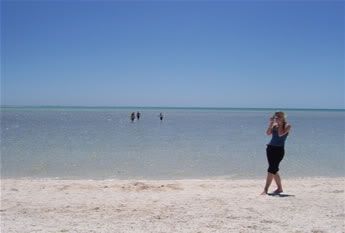 The four days went very quickly, but I always knew it was going to be a fast tour. The final day of my trip was more relaxed than the previous three - we set off at 10:30, for one thing. I had a wander on the beach at Coral Bay before we got underway. We drove up to Exmouth and checked into our holiday park hostel, which was pretty good value for $20. Exmouth was founded in 1967 to support a US submarine tracking base. We rolled through it and round Cape Vlamingh (he of Rottnest Island fame), which today houses the mothballed Harold Holt Communications station - the Australian Prime Minister who vanished off the face of the earth whilst out for his morning swim in the 60's (not here though). Today they site is abandoned, and lies rusting under the unyielding sun. The peninsula is famous for more than that however - the Ningaloo Reef lies off the Western tip. The Ningaloo is Buzz Aldrin to the Great Barrier Reef's Neil Armstrong, but is quietly becoming more popular. The big draw there - apart from the usual coral - are the Whale Sharks that cruise lazily up the coast from May to July each year. Wrong time of year for us, though.

We stopped off at Turquoise Bay - a beautiful snorkelling spot. This was your classic tropical reef beach - white sand, clear water, warm breeze. Steve the driver produced a battered box of snorkelling gear, and we all had a go. Although being a pretty rubbish swimmer, I saw a few different kinds of fish in waist deep water - although it would have been great to go out over the reef - I'm just not good enough to negociate the currents. Still, it was great to see the fish that close up, and I can't think of a better way to spend an afternoon, really. It was great.

On the way back to the holiday park things got better, though. We drove up to the Vlamingh lighthouse and Steve produced a box of wine and a pile of plastic cups, so we had a drink and watched the sun go down over the Eiffel Tower-sized communication pylons. Out in the bay, a series of splashes caught our attention, and suddenly a humpback whale breached the waves and crashed back into the sea. It was stunning - they were a long way out, but we were high up enough to see them all coming out of the water. Every 30 seconds a whale would come up for air, or splash out of the water. We saw two go almost completely out of the sea before slapping back with a huge white plume. That more than made up for the cancellation of my whale-watching tour in Kaikoura (which seems like such a long time ago). We weren't as close as a boat trip gets you, but these were wild whales splashing around in the afternoon - and we were up on a hill overlooking the sea it felt as if they were putting on a show for us. It was breathtaking - and a great way to end my trip. I flew back from Exmouth to Perth with a huge smile on my face...