Princes Street on a Saturday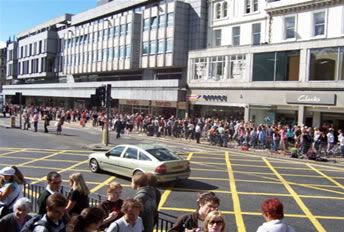 Venturing out into the centre of Edinburgh on a Saturday can be a hectic thing at the best of times - but seeing as the Christmas rush appears to have started already, on weekends the city is packed. If you go to either end of Princes Street, and happen to be reasonably tall, you can look along the entire street and see about a mile of heads - shoppers mindlessly charging along looking for bargains. So with nothing specific that needed doing today, it was time for a well-earned 'day of nothing' - general pointless mooching around that is the one true benefit of having no kids/pets/responsibilities. First off, it was a cup of tea - an Empire was built on it, after all. Then, a short but invigorating stroll to William Hills to pick up a football pools coupon, and to the paper shop. It was absolutely freezing today - I stepped out of the door and the cold hit me like a slap with a frozen fish. I could feel the heat start to leach out of my fingers and nose, so hurried off down the street, reading the obscene graffiti written on frosty parked cars as I went.
Back inside, it was another brew and a bagel - a weekend treat more exciting than toast - and the all important coupon selections. If you're unaware of betting on football in this way, you get a sheet with the day's upcoming matches divided into groups (sections) of 8. You pick one team out of each section to win (or draw), and then decide how much you want to bet. Some people play randomly, but I try to at least give it a sense of reason by consulting the division standings and matchups. This is easily over-relied on though, and you start obsessing about how many home wins Plymouth Argyle have this season, or because Ross County have yet to draw a game - will that be an omen for their meeting with Dundee? Very quickly you get all kinds of permutations, and having to narrow them down to one for each section becomes tricky. Still, I managed it eventually and selected 5 games at 14/1, 8 games at 81/1, and 4 draws at 69/1. £1 on each of those three, and suddenly meaningless matches like Stranraer v. Brechin take on a financial importance.
So it was back out into the cold for the ten-minute walk to the bookies to register the coupons, which I did in five minutes because it was so freezing. Looking at the darkening sky, it was threatening to snow - something I've not seen for a while, of course. The prospect of freezing winds and snow combined with crowded streets made it even less inviting to go up to the city. So it was on with the Xbox and a few games of Tiger Woods golf until the football results came in - again, I should stress this was a deliberately lazy day - not something I do all the time. Well, apart from playing on the Xbox. Once the football matches kicked off at 3pm, it was time for the excitement of updating scorelines on 'Super Saturday' on Sky (sorry Dad) accompanied by more tea, of course.
For the next two hours, the coupons were clutched and repeatedly glanced at as goals were scored across the country. In order to win a section, you have to get every game right - so I was hoping for 5 games to be won by the teams I'd predicted, and another 8, and 4 to be drawn. Of course, each time a scoreline flashed up it was a potential coupon-buster. Amazingly the football gods smiled on me, and in my 14/1 section all five teams I'd marked down actually won. So after checking the final scores at 5pm, it was back to the bookies to collect my winnings. It was long since dark by this point, and the buses were packed full of Saturday shoppers returning with their spoils of victory. After leaving William Hill, I had my own spoils in the form of £20.70 ($35 for my American readers) - not massive, but I only bet £3, so it was good enough. As I walked home I was struck with the thought that in my 'day of nothing' I'd left the flat three times - each time to go to the betting shop. I don't have a problem, honest...