Some more photies from the trip - this bunch from those three distant islands of New Zealand. If you haven't been there - you owe it to yourself to go. I can't put it any simpler.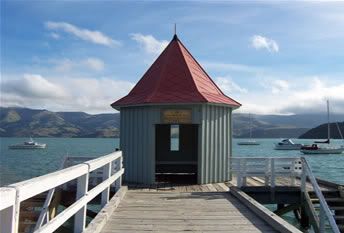 Akaroa again, the French settlement that lies about 70km south of Christchurch. This is the old jetty, looking out into the harbour where you can go dolphin watching. The water fills what used to be a massive volcanic crater, which rumbled out of the sea in pre-historic times creating the Banks Peninsula (named by Captain Cook after his botanist, Joseph Banks). The mountains in the distance are the opposite crater wall.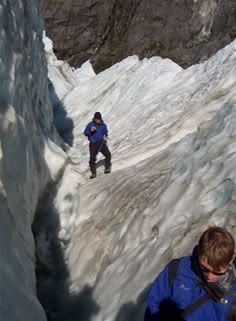 The Franz Josef glacier is breath-taking. We walked up it for about 4hrs, smashing down into the ice with our crampons with every step. It was - you'll be surprised - very slippery, but thankfully none of us vanished into crevasses like this one (and this was a small one). The guy with the ray-bans is Mike, a trainee policeman, and the other bloke is a wacky Korean called Minh who took a million photos. A chainsmoker, he forgot his cigarettes - and the thought of 8hrs without made him dig out a pile of till receipts from his bag, roll them up, and smoke them. I asked him if it tasted nice. "No." he said, shaking his head sadly.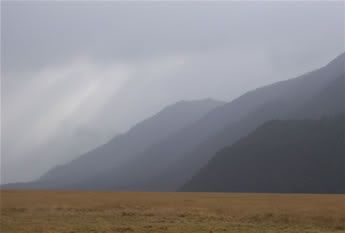 This is the Haast Pass, a narrow strip of land in the South Island between mountain ranges. On the way to Thunder Creek Falls, I think this bit is Pleasant Flat. According to a website I looked at it 'frequently rains and the magnificent view may be obscured by fog or clouds. This is also sandfly territory, so have some rub on insect repellent available.' Named by an explorer with a sense of irony (or humour).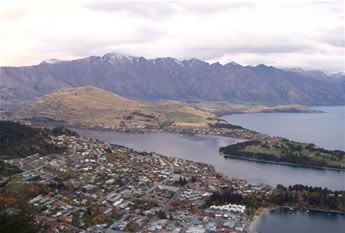 Queenstown, as seen from one of the many hills that surround it. The town reminded me of a Lake District or Scottish Highland town, only with utterly crazy stuff going on everywhere. Like Aviemore on acid. Want to pull on a wetsuit and roll down a slope inside a gas-filled rubber ball? Why not? You can't do it in Kendal, after all (as far as I know). Those mountains are the 'Remarkables' - so called because apparently they run in an exact line, North to South. They were also featured in Lord of the Rings - as was most of the rest of NZ.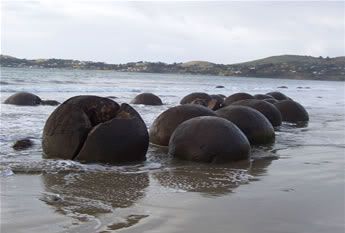 The Moeraki Boulders, in Oamaru. Over 60 million years old, these enormous black balls are one of many rock-based attractions in New Zealand - indeed they actually feature as the photo on a major NZ credit card. The largest ones were about the size of a car, and all were formed in some complicated geological process involving heat and pressure, where a single tiny fossil was glooped on by layer after layer of ooze, like a giant profiterole. So in the middle of each one of those huge boulders is a microscopic shell or piece of wood. The Maori believe they are food baskets of the Gods, washed ashore from a shipwrecked canoe.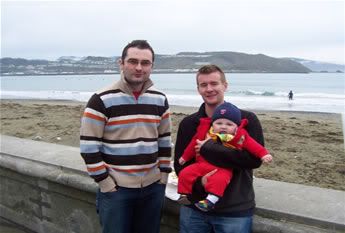 This is me and my old mate Edd, recently emigrated to Wellington from Edinburgh with his girlfriend Michelle and their wee lad, Jack. If you can see me straining to hold the little guy, it's because he's about a month old here. Well, 6 months. He's one hefty chap! I'd never actually held a baby before, as you can see - I didn't tell Michelle that of course - which is why I'm gripping the little tot with all my strength. This was taken just outside Wellington, where we went for chips. The main runway of Wellington Airport is just to the left of us, so we ate chips and watched the planes take off. Michelle calls this photo 'My two Dads' - although what she's implying there, I didn't ask...