Your author (bottom right, in blue and white Rovers kit)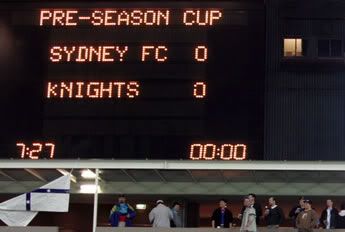 The other week I went along to the first game in the pre-season campaign of Sydney's newest sporting franchise - Sydney FC. As a team, they've been around for a while, but the brand new domestic Australian football league - the A-League - starts this month. One of the Rovers fans in Sydney is a season ticket holder at Sydney FC (and at GBP60 they are considerably cheaper than season tickets of football teams in the UK), so I met up with him and the other hard-core Sydney FC fans.
The game was held at the Aussie Stadium, in front of about 9,000 people - which wasn't bad for a pre-season game against unknown opponents (the New Zealand Knights, anyone?). It was interesting watching a new football team start off - something that you never really get to see as most English teams were founded around 100 years ago. The small group of - let's face it - football nerds that I was with had chosen an area behind one of the goals to stand (yes, standing at football). It had been recently christened 'The Cove' for reasons I'm not too sure about, and was draped with banners for the team, until the fans were told by stadium security to take them down.
The game was enthusiastically dreadful, but Sydney wound out winning 3-1 and have been installed as favourites to win the new A-League. Predicatably they are seen as flash and overconfident (something Sydney is accused of a lot) - and this comes as no surprise when their star player is none other than ex-Rovers makeweight Dwight Yorke - the ultimate footballing playboy and father of a child with the model Jordan. I later read that Yorke was seen drinking in an Oxford Street bar a couple of hours after the match, so some things never change.