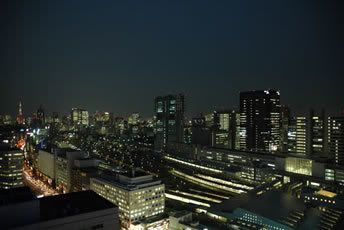 Some bonus photos of the Japan trip, which seems like a while ago now but still lives in the memory. This is a night view over Shinagawa with the railway station in the foreground, and the Tokyo Tower rising like a shaft of light on the far left. This was the view from our hotel window.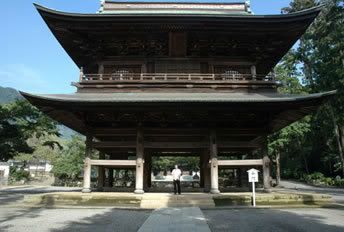 This gives an idea of the scale of a typical gatehouse at a Buddhist temple, in this case Engaku-ji in Kamakura, about an hour south of Toyko. Made entirely from wood, slotted together without any nails, the temple was spread over a large area. Designed to be enjoyed in peaceful reflection, any quiet was drowned out by the loud grating of cicadas in the trees.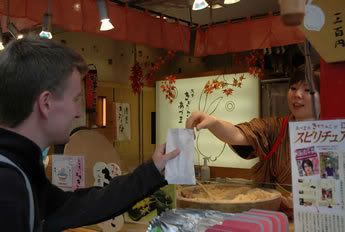 Buying sweetened bean paste in the market at Nakamise-dori, Asakusa. At least I think that's what it was - it was very good. Chewy dough-like balls on skewers, coated in some sugary powder, traditional Japanese snack food.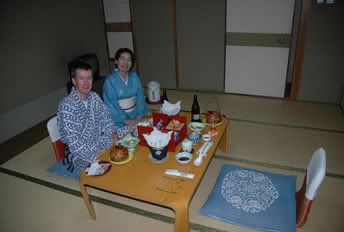 Your author relaxing in the ryokan in Kyoto, wearing the typical Japanese robe, or
yukata
. The woman on my left is the server, who every other night (there were two of them and they worked alternate nights) set up our dinner and brought in all the various small courses. This gives a good idea of the basic style of furnishing that roykans have.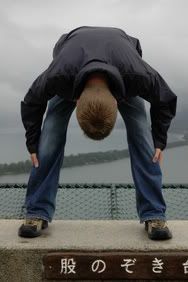 Another photo of yours truly looking at the
Bridge to Heaven
in Amanohashidate in the appropriate way. The netting was there in case you overbalanced and went over the edge, I think. As I said before, it really didn't look like a bridge ascending to heaven - but maybe I wasn't imagining it hard enough...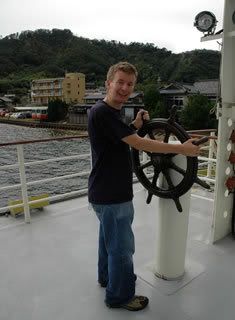 Also at Amanohashidate, this was on the roof of the small ferry we took back from the base of the viewing platform to the railway station at the other end of the sand spit. The wheel wasn't connected to anything, presumably it was just for tourists to take pictures of each other looking daft - so I was only too happy to oblige.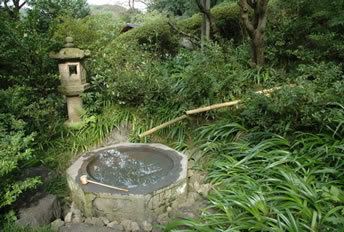 Picture-postcard view of a fountain, this one in a Shinto cemetary in Kamakura. The water slowly flowed along each successive bamboo section, before dripping into the stone containers. We weren't sure if it was for drinking, or another of the many purification troughs that are positioned outside temples/shrines for you to cleanse yourself before beginning to pray.