My camera's not good enough for this...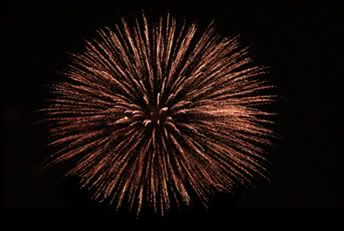 Well happy new year everyone - I hope 2006 is all you want it to be, and more. This is the third calendar year of DUaB, which wasn't what I bargained for when I started it all those months ago. Never mind, eh? What did you get up to on NYE? I've got to say, I'm not a fan of New Year's at all - the compulsory enthusiasm and such. I'm not a miserable git, either - I'm just not sure about deliberately having to enjoy something because it's traditional. You can't get much more traditional than Hogmanay in Scotland of course - in fact the Scots take it to heart so much that we're given two days off to recover - the 2nd/3rd January are Bank Holidays, so I'm not back to work until tomorrow.
Which is a good thing, as I've got a stinking cold, that sapped my willingness to party even more on NYE. Still, we had to do something, and went to one of our local pubs where I had a few medicinal pints of lager and the Edinburgh fireworks were shown on their widescreen TV. For some reason, I felt even worse on New Year's Day, so wrote the entire day off. I remember this time last year I watched the Sydney harbour fireworks - seems like such a long time ago now. Incidentally, today was the hottest New Year's Day in history in Sydney, reaching a staggering 44.2C (116F). That's one thing I don't miss about being there. That and the flies.
Unfortunately I also had to brave the sales today, as during my flight back from London I managed to rip a huge hole in my jeans (don't ask). There can't be a worse time of year to go shopping. On a bus going along Princes Street the other day, I did a quick count of all the shops to see how many had advertised sales in the window - 68 out of 72. The other four were twee Scottish shops that were obviously confident enough that people would buy their tartan tat at full price. Anyway, today I ventured out to Ocean Terminal - the world's only shopping mall with a Royal yacht bolted to it. True story - the yacht
Britannia
is a permanent fixture there, so you can pick up some pants at M&S and then go and see where the Queen used to sleep when she was being sailed around the world at our expense. Anyway, needless to say I didn't find what I was looking for, as everything had been replaced with 'sale items' and all the shoppers there were hormonally-crazed psychopaths. But it got me out of the house...