Rushcutter's Bay, with yacht club (white roof)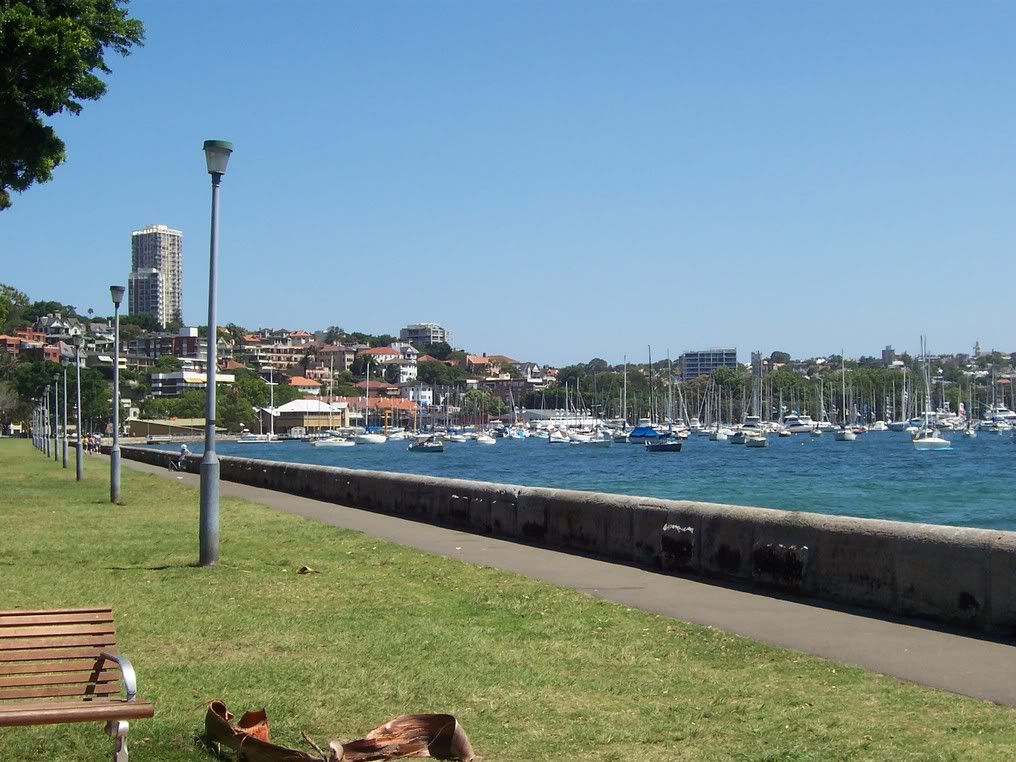 Saturday afternoon in Sydney, and time to pay a visit to Amy's Dad's apartment in Elizabeth Bay. One of the most exclusive areas of Sydney, it's right next to Kings Cross - one of the least exclusive. Travel writers would have a field day with the mixing of that kind of local flavours. Apparently Kylie Minogue herself looked at flats in Elizabeth Bay.

We were supposed to go round for a seafood lunch prepared by Amy's Dad, Earl, and his partner Jen. But after some champagne on the balcony of their fifth-floor apartment overlooking Rushcutter's Bay - a surprise was sprung. We were all going out to lunch.

So half an hour later we were in the swankiest restaurant in Chinatown, and I was staring at a very large, but very glum, lobster. Held up by Albert the head waiter - who knew Earl personally - it was about to be our afternoon's entertainment. But first, the duck. A whole duck, mind - fried and brought to our table to be carved. After three courses from the unfortunate (but very tasty) fowl, it was time for the lobster. I've never tried lobster before, and it was delicious - even if the guilty feelings about meeting it face to face before it's boiling bath persisted.

Earl signed the bill with a raffish grin, and after giving Amy a white gold bracelet he bought on a recent trip to New York, it was back to the flat for more drinks. We've been invited to his yacht club for lunch - this is all very different to how I imagined it would be - I'm certainly not in backpacker territory here. At this rate I'll have to invest in a blazer! (but I draw the line at cravats)...