NSW against New Zealand at an empty SCG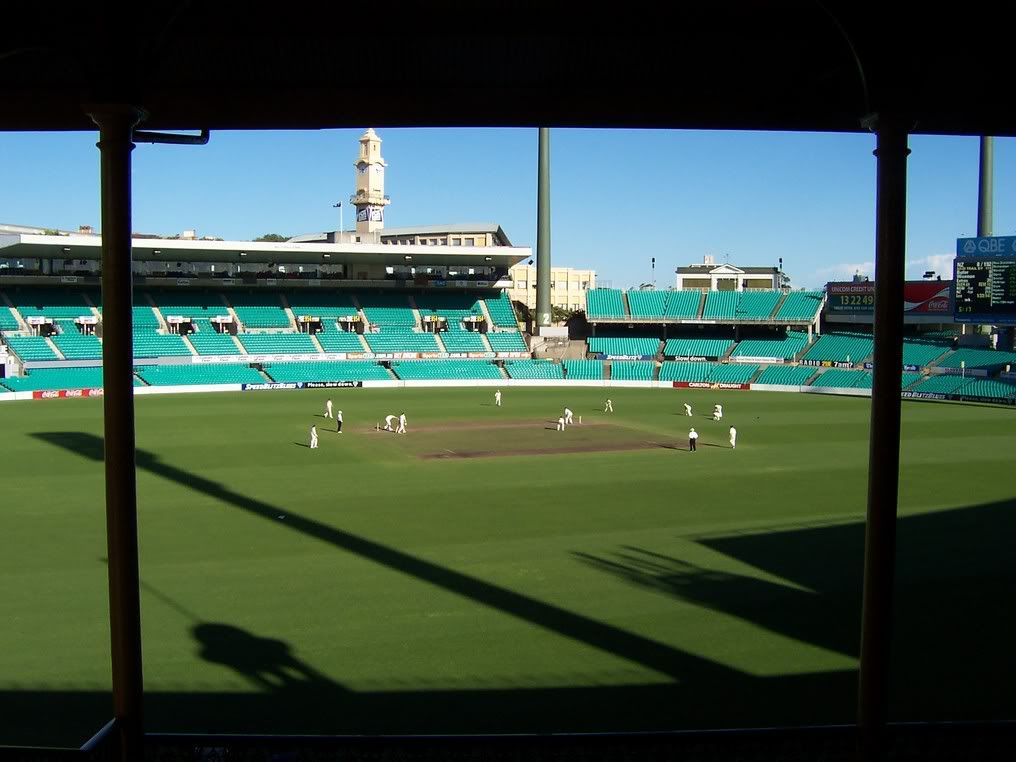 One of the good things about staying in a city when you have nothing planned for each day is the paper. I read the Sydney Morning Herald (SMH) religiously, as it often helps decide what I do. Whether it be a gala dinner, night at the opera, or cricket match, I read about it in the trusty SMH and attend. Admittedly I only went to one of those things, and it wasn't the opera, but you get the idea. On Friday I went to the Sydney Cricket Ground (SCG) to watch the touring New Zealanders on a warm-up match against New South Wales. It was a great day, sitting up in the Grandstand, and then in the sun, drinking beer and reading the paper (when the Kiwis were batting) - and all for 4pounds. In fact, I enjoyed it so much that I went back on Saturday and watched another day - these things can be done with my unhectic schedule.

I didn't go back for a third day however, as I was invited to a birthday Yum Cha brunch in North Sydney. One of Amy's old friends, Jean-Baptiste, was celebrating his anniversaire Chinese-style. If you've never had Yum Cha, it's basically a Chinese version of tapas served at lunchtime, with a lot of shouting. There were 16 of us, half of whom I recognised from my month (one down already) here. You're in a room and the waiters wheel trolleys of food past, shouting what they are through the open door. If you like the sound of what they have, you shout back and they come in and put the food on the table. So we had deep-fried squid, garlic prawns, pork buns, Chinese greens and several others - all at 11am. It was too early in the day for chicken feet, for me. It was great stuff, and the shouting gave it more of a fun atmosphere than normal lunches. Not quite as crazy as the Japanese teppanyaki where you have to catch your food as the chef throws it, but it was Sunday morning after all... .