Let's Go Rabbit-ohs...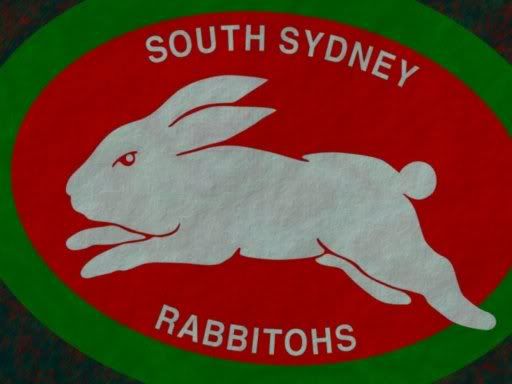 Sydneysiders are really keen on sports, and for them one sport is king - rugby league. The Australian league (the NRL) consists of 14 teams, and 9 of them are based here. Confusingly for me, they call it football - in fact 'football' also refers to rugby union and Aussie Rules. Recently the Australian Soccer Federation renamed the game football to fit in with the rest of the world, and then there's the American version of football that I watch too - so going to watch the 'football' can mean almost anything.
One of the Blackburn supporters here is a fan of football and football (see?), so when I asked if he was going to the first NRL game for his team I asked if I could come along. The South Sydney Rabbitohs are a rugby league team named after a baby rabbit - and they play like it. The perennial losers, they finished bottom again last year. On Sunday they were playing the Parramatta Eels (Parramatta is aboriginal for 'where the eels lie down') and were expected to lose handsomly.
Imagine the surpise when they ran in eight tries to thump the Eels 49-26, their first win over Parramatta in ten attempts. Although there were only 11,500 in a 40,000 capacity stadium, the atmosphere was still great - mainly due to the fanatic section of Souths fans called (predictably) The Burrow. They sang knock-off football chants (
'Walking in a Bunny Wonderland'
was a favourite of mine) and started a lot of good-natured banter with the Eels fans mingled in the crowd. The only chant that went unrewarded was the 'We want 50' as the Rabbitohs finished on 49 points...