That's a big pile of money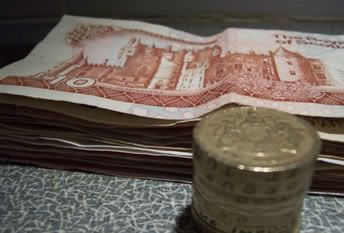 Apologies if you don't like the sport, but this post is mostly about football. And betting. On Saturday I had almost the perfect football day, which saw the 3rd round fixtures in the English and Scottish FA Cups played. Traditionally these Cup competitions provide excitement and upsets, as teams from all leagues are drawn against eachother irrespective of the quality of their divisions. So you get lesser teams playing bigger ones, and the prospect of them winning and being 'giant-killers'. Phrases like
'The magic of the Cup'
and
'The Cup's a great leveller'
are bandied about as everyone roots for the plucky underdogs (in theory).
As regular readers of DUaB will know, I'm a sucker for the football coupon. In fact, you can read a previous entry about what the coupon is, and how I won £21, by going
here
. (Yes, I've remembered how to do HTML links). All week I'd been thinking of a strategy for this particular special coupon - the only one of the year with lots of good teams against lots of lesser teams. As a result, the odds were so short that if I'd put my normal £2 on, I'd have only won £11 back (if the 5 games I predicted had gone correctly). So I decided to put a bit more on to give me a better chance. So Saturday morning found me standing in the bookies with the thin slip of paper containing my choices, and £50.
Admittedly, I knew that was a daft amount of money for someone of my financial clout to risk on a few men kicking an air-filled bag around - but hey, nothing ventured etc. This was always going to be a one off (honest Mum). So the bet was placed, and off I went. At 1pm I went along to see my local team - who I have to say I'd never heard of until last week, Spartans FC. They had made it to the 3rd Round of the Scottish Cup against 3rd Division Queen's Park - a great achievement. They play at a tiny sloping pitch in North Edinburgh, next to a Morrisons Supermarket carpark, and surrounded by grey housing blocks. The 'stand' for seated spectators holds 120 - although there were about 30 people in it. Everyone else stands on the grass banks around the field.
Nobody expected Spartans to win - they are part-time footballers after all, but astonishingly they did, 3-2, in a cracking game that was full of good football, hard tackles, and outstanding swearing (you can hear everything when you're 20ft from the pitch). The crowd of 711 were into it too - I would guess a 50:50 split between Spartans fans and those who had travelled over from Glasgow to support Queen's Park. As it turned out, they had a long drive back, as non-league Spartans outplayed them and were deserved winners. It was amusing listening to their anguished cries as time was running out, and general shouts of things like 'Ach! That was SHITE, man!', as another Queen's Park pass went astray.
Anyway, so I'd seen a great game of football, and made it back to find out that 4/5 of my games had gone the way I predicted, with only one to go for a (sizeable) win on the coupon. That game was Luton Town v Liverpool, and I'd picked Liverpool to win. It was live on telly, and I sat through it with a couple of friends. Blimey - if you saw it you might have an idea of what I went through - but after Luton held a shock 3-1 lead, Liverpool eventually wound up 5-3 winners, and after a frantic double-checking of the bit of paper in my shaking hands, I'd won the coupon again, but off a stake fifty times higher than I normally bet.
So, with a bit of thought about 'going big' with the weekly bet, and five games of football played all over the country, I'd won myself more money in one go than all my winnings put together, ever. Today I fair scampered along to William Hill, which thankfully was open on Sunday, and nervously handed over my copy of the coupon. It felt good to stand in the 'WIN' section of the counter, rather than the usual 'BET' side I go to when I hand the money over - even if the serial gamblers in there weren't paying attention to anything other than the greyhound results. The bloke behind the counter scanned my coupon and fished out a wad of notes, which he put on the counter top before turning back to his paper. I hurriedly snatched it, and trotted back to the flat for a celebratory cup of tea. I'd bet £50 on five football games, and won £378 ($670). Not bad for a day's work. I'll be back on the £2 bets next weekend though. Probably...