Montmartre sunset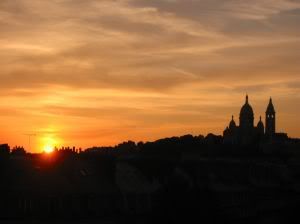 It seems like most people either really love NYE, or can't be bothered with the whole idea. There is a pressure to go out and do something fun and memorable, and of course anything in a public area usually involved drunken idiots (unless you're one of the drunks). I'm not sure where I fall here, but as much as I like going out, it wouldn't bother me too much if I didn't. Thinking about it though, over the years I've been quite lucky with my NYE outings. Here are a few that stick in the memory.
-
Paris 2003/04
I'd never been abroad for the new year before, but taking a cheap flight to Paris turned out to be a great idea. It helped that we knew someone out there, and managed to borrow a studio flat in Montmartre for a few nights, as one of her friends was going away. If you've ever seen a Paris studio flat, you'll know how small they are - and there were three of us in it. Of course, most of the time we were out and about, with Erika showing us around Paris. The best bits were the walks, wandering around Montmartre, the Seine, the old cemetaries - all in freezing weather. At NYE itself, we went to a party and left at about 3am realising we had no idea where we were, or how to get back to where we were staying. We ended up wandering around wishing random people 'Bon annee' until the Metro restarted at 6am and we could go home. Actually now I remember - the best thing about Paris were the
crepes
...
-
Edinburgh 2001/02
As usual the entire centre of Edinburgh was fenced off, reserved for ticket holders only. Although free, these are hard to come by, so when in the 'burgh we usually have to think of other things to do on the big night. A couple of years ago we met up with our friend Lou who knew a bunch of medical students who lived at the top of a tenement on the corner of Forrest Road, by the new museum. We turned up to their party, and found a rickety wooden ladder poking up into a skylight. They were all up on the roof - so we scrambled up the ladder and emerged on top of the five-story building's flat roof. After a few drinks amogst the chimneys, the midnight fireworks display went off, leaving us in a prime location, with a great view across the entire city.
-
Manchester 2000/01
The last time I was out on NYE with my friends from home was almost five years ago. We decided to go through to Manchester as there was an outdoor concert at the Castlefields site by the canal, featuring the best of Manchester bands at the time -
Alpine Stars, Doves and Badly Drawn Boy.
After a few drinks, we got there just as Doves were starting and managed to get to the front for their set, which was brilliant. The headliner was Badly Drawn Boy - otherwise known as Damon Gough, a great songwriter, but with a shambolic stage routine. He came out almost inebriated and played a couple of songs, then came to the front of the stage and pointed straight at my mate Alex, who was standing next to me. "Are you not f***ing enjoying yourself then? I'm here to f***ing entertain you lot, you bastards" he shouted. Alex (who's well over six feet and 15stone) had been standing there, arms folded, listening to the music. Badly Drawn Boy shouted a bit more, then started playing again - but the crowd started to turn on him. When someone hit him with a (plastic) pint glass, he flipped - unplugging his guitar and hurling the pedal into the crowd, along with a beer bottle and his mobile phone (which landed about a foot in front of me). He shouted more stuff at Alex, the person who threw the glass, and the crowd in general, and stormed off. That was it, gig over, at 15 minutes to midnight. The organisers hastily played some music over the p/a and waited for the new year. Alex told me later that he had been enjoying it, and didn't know what the fuss was about.